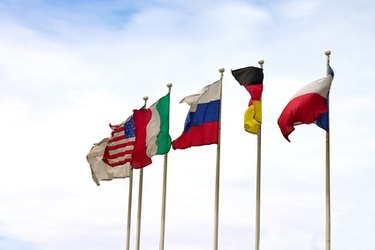 Invite your guests to experience different parts of the world by hosting a party that explores the cuisines of various countries. From appetizers to desserts, plan an international food party. If you intend to serve alcoholic beverages, buy a selection of foreign beers and wines to add authenticity to your dinner.
Invitations
Invite guests to your international food party using postcards from countries you've visited or would like to visit--or whose food you plan to serve at the event. Write your party details on the postcard; encourage guests to add to the theme by dressing in traditional attire from their favorite countries. If your international food party is a potluck, suggest that each guest bring a dish inspired by the country you name on his invitation.
Seating and Place Cards
Give each table the name of one of the countries represented at your international food party. Create place cards for guests in the design of a passport. Before the party, ask each guest to send you a digital photograph to use on her passport place card. Stamp the passport with the name of each country represented at the party.
Buffet Service
Serve guests buffet style by setting up food stations throughout your party venue. Each station can represent a different country. A Japanese station might feature sushi, miso soup and teriyaki chicken, while the Italian station includes lasagna, tiramisu and gnocchi. Decorate each food station with the country's flag and other items unique to the country.
Menu
Plan your menu to cover at least five and up to ten countries. Include appetizers, entrees, desserts and beverages to introduce guests to the full spectrum of each country's cuisine. Create a menu that resembles a takeout menu, grouping the foods by station, and put a copy at each place.
Favors
Package candies from Germany, Russia, France and Belgium in small satchels or Asian takeout boxes. You can buy takeout boxes in assorted colors to represent the diversity of your international food party. Include a note inside each box or satchel listing the names and origins of the candies.
Activities
Ask each guest to bring copies of the recipe he used to create his dish. If your party is not potluck, make copies of your recipes. Before the end of the party, have a recipe swap. This will give guests a chance to chat with everyone at the party and go home with recipes they can try in their own kitchens.