Sipping on a toasty cup of hot chocolate is one of life's simple pleasures. But do you know what makes this cold-weather drink even more delightful? When love and care were put into every heartwarming sip. Bring extra joy into the lives of your friends and family this holiday season by presenting them with layered hot chocolate mix in a jar. It takes about 10 minutes to pour the ingredients together — they're as straightforward as granulated sugar and cocoa powder — so you can make a complete batch for everyone on your list in just a couple of hours. Keep the accompanying marshmallows classic or peppermint-flavored, and this will be a treat everyone will be happy to receive.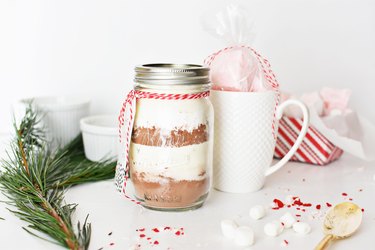 Things You'll Need
3/4 cup cocoa powder

1/2 cup granulated sugar

1/2 cup powdered sugar

1 cup powdered milk

Mini marshmallows

Colored string

Gift tag

Mason jar
Step 1: Layer the Ingredients
In a clean mason jar, layer the ingredients. Start with half of the cocoa powder, then the granulated sugar, and then half of the powdered milk. Tap the jar gently to level out the powders. Next, pour in the remaining half of cocoa powder, powdered sugar and powdered milk. Finally, top off the jar with mini marshmallows, and then seal it with the lid.
Step 2: Write Heating Instructions
On a festive gift tag, write the heating instructions. "Pour contents of hot chocolate mix in a small bowl and mix well. Stir 1/3 cup of hot chocolate in 1 cup of hot water. Enjoy!"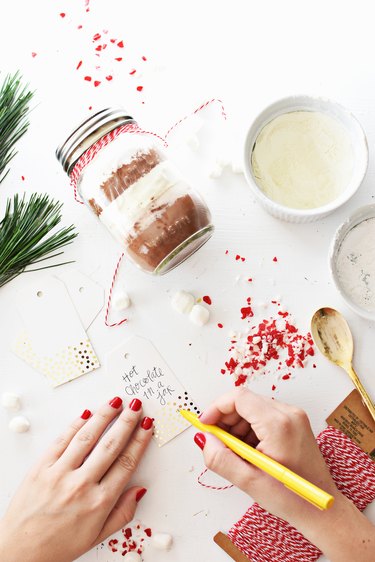 Step 3: Decorate Packaging
Tie on the gift tag with colored baker's twine or string. For an alternative way to wrap hot chocolate in a jar, place the mixture inside a cellophane bag. Then, place the bag inside a festive mug, and wrap it all up with peppermint marshmallows. Happy holidays!