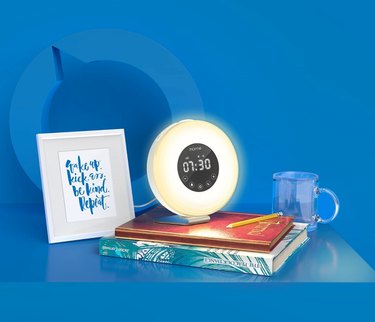 With summer on the horizon, many high school students are about to graduate and embark on the next chapter of their lives. Some have already given speeches, received their diplomas and taken that final, symbolic walk across the stage. If you're the parent, relative or close friend of a recent or upcoming high school graduate and need graduation gift ideas to celebrate their achievement, we've got you covered. Whether they're headed off to college or trade school in the fall or jump-starting their own business from home, these 10 gifts for high school graduates can make their transition to adulthood easier—and comfier, too.
They say your late teens and early twenties are all about finding yourself, so self-expression and uniqueness can feel especially important during this time. Why not give your high school grad a laptop sleeve that nobody else in lecture or the library is likely to have? Society6's talented artists have created hundreds of eye-catching laptop sleeves, ranging from pastoral to ultra-modern, from beautiful to thought-provoking—and everything in between.
Available in 13-inch and 15-inch sizes, each Society6 laptop sleeve is made from durable woven polyester and lined with microfiber to prevent scratches. You can easily spend an enjoyable hour searching for the perfect sleeve that best suits your grad's vibe, or you can let them pick their favorite.
2. Noise-Canceling Headphones
Let's be real: Most of us could use a pair of these, college students or not. But for your future college freshman (or entrepreneur, or anything, really), these highly-rated Anker Soundcore Life Q20 noise-canceling headphones will come in handy. Capable of reducing ambient noise by up to 90%, they'll help your grad stay laser-focused while working on projects. Of course, they'll probably also use them to listen to music on a whole other level, thanks to the headphones' exclusive BassUp technology and up to 40 hours of non-stop wireless playtime. Not bad.
3. Hydro Flask Thermos Bottle
For a busy college student or high school grad who's always moving, this name-brand bottle keeps beverages cold for up to 24 hours and hot for up to 12 hours. Long day jetting all over campus? Cue the cool refreshment. All-nighter in the library? Hot coffee, please! The Hydro Flask is available in three sizes: 18-ounce, 21-ounce and 24-ounce. Choose from up to 18 different colors.
4. Sunrise-Simulating Alarm Clock
Maybe it's just us, but getting up early in college seemed exponentially harder than it did in high school. Plus, it's one thing to wake up early, and another to actually get out of bed. If your graduate was a chronic oversleeper in high school, this alarm clock that simulates the morning sunrise may help. It uses a warm LED light that gradually brightens 30 minutes before the set alarm time to gently wake you up.
Like a traditional alarm clock, it has an alarm and a snooze button. It even has a built-in FM radio and a selection of nature sounds to help you wake up. It's perfect for night owls who struggle to arise early and for early birds who need to take a late-night nap before going back to studying. For under $60 (the usual price), it's a steal.
If your out-of-state college student or young world traveler finds themself missing home, these Homesick Candles may help cheer them up. Crafted from a natural soy wax blend with premium cotton wicks and custom fragrance oils, each candle features an aromatic trio of top notes, mid notes and base notes to provide a complex, nuanced scent that encompasses elements directly inspired by specific locales. Oh, did we mention that there's a unique candle for each of the 50 states? From Alaska to Hawaii, Homesick has done its research to formulate scents that are accurate and inviting. Each 13.75-ounce candle comes in an eco-friendly glass jar and offers a typical burn time of 60 to 80 hours. Homesick.com also makes city-specific candles, too.
6. Personal Popcorn Maker
Real estate in most dorm rooms can get taken up pretty quickly, so for those dorm room movie nights or streaming binges, this small, portable popcorn maker is ideal. The Presto Poplite Hot Air Popper (which topped our list in The Best Popcorn Makers in 2023) uses hot air, not oil, to pop delicious popcorn, so it's slightly healthier than the typical cinema concession stand variety. It's easy to use and includes a butter-melting tray that doubles as a measuring cup. It makes one- to two-person servings each time, making it perfect for solo watching or at-home movie dates, but since it pops quickly, it can easily serve a larger group, as well.
7. Single-Serving Coffee Maker
Continuing with the space-saving theme, this single-serving coffee maker from Keurig is compact and economical. The Keurig K-Mini Coffee Maker brews 6 to 12 ounces at a time, the perfect amount for one person—so your high school graduate will feel like it's meant just for them. Of course, sharing is caring, and if their college dorm mates want in, brewing another cup takes only a few minutes. The coffee maker is designed to accommodate both short mugs and taller, travel-friendly mugs, so your grad can use it to make coffee to-go.
According to Penn Medicine, weighted blankets not only can help alleviate anxiety but also have proven beneficial to people with sleep disorders, ADHD and autism. If you know your high school grad suffers from anxiety or is affected by certain disorders, a weighted sleep blanket can help them sleep and rest better and feel more secure. Even if they don't have one of these conditions, a weighted blanket can make sleeping extremely comfortable. These weighted blankets from YnM come in a wide variety of dimensions (up to 80 inches by 87 inches), colors and patterns. Their weight ranges from 5 pounds up to a hefty 30 pounds. It may be a good idea not to go ‌too‌ heavy as weighted blankets can take some getting used to.
9. Portable and Adjustable Laptop Table
We've all been there—finding ourselves exhibiting terrible posture as we're hunched over a laptop or doing computer work in bed. For a high school grad who's going to be tied to their laptop for quite some time, a portable and adjustable laptop table may do the trick. This model from SAIJ adjusts to four different angles from 0 to 36 degrees, and the table legs adjust to five different heights, allowing your grad to comfortably work on their bed—or even lying on their back.
It also includes a small pull-out compartment for housing lightning cables, pens and pencils. For the style-conscious, we also recommend this wood surface model, notable for its ability to angle a portion of the table while keeping the other part of it flat—an ideal spot for beverages and smartphones.
10. Jumbo Dry-Erase Whiteboard Calendar
Your college-bound grad or young business owner is going to have a busy schedule, so consider gifting them a jumbo whiteboard calendar to help them stay on top of everything. While there are dozens and dozens on the market, we especially like this reusable dry-erase whiteboard calendar from JJPRO. It offers two sections for covering two months at a time, so your grad can always get a head-start on planning the next month without erasing the contents of the current month.
We also think it's the perfect size; at 36 inches square, it's not ‌too‌ big, but plenty large enough that it'll be easy for your grad to see what they've written, even from a distance. The whiteboard calendar also comes with bonus items like six colorful dry-erase markers, a self-adhesive pen holder, thumbtacks and removable mounting tape.