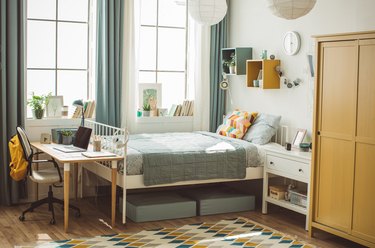 Your first year as a college student is exciting for so many reasons: You're away from home (possibly for the first time!), you're meeting new friends left and right, and you get to dive deep into studying your favorite topics—and that's just for starters. Perhaps most fun of all, you get to decorate a dorm room.
As you're shopping for dorm wall decor, you may be tempted to cover your space wall-to-wall in posters. You can do that, but we think there are more elevated ways to show off your personality, from boho wall hangings to greenery to framed (but not fussy) art. Way better than pinning posters into a wall, right?
What To Consider When Purchasing Dorm Room Wall Decor
​How You'll Hang It:​ Many college dorms have cinder block walls that make hanging decor tricky, and others have bumpy textured walls that can get in the way of adding decals. Easy installation for dorm decor is key, especially since you'll likely be moving out in just nine months. Anything that can be hung with adhesive strips or a simple pushpin in the wall is ideal, and for larger installations (like decals or wallpaper) you'll want to ensure they don't leave any residue behind. You wouldn't want to be charged come the end of your freshman year.
​Style:​ Your college dorm is likely your first away-from-home room to experiment with your decor style. Have fun with it! There's no need for a dorm room to be serious—use color, texture, and whenever possible, include personal pieces like photos of your friends and family. (Homesickness, especially those first few months, is real.) If you're sharing a room, consider conferring with your roommate before investing in larger dorm wall decor pieces, so you can bounce room ideas off of each other for a cohesive look.
​Price:​ College dorm rooms are temporary. Spending a lot on temporary bedroom decor pieces is unnecessary, but if you're able to move the art with you to your next couple living situations—remember, you'll likely move a few times before you get your diploma—go ahead and invest in quality materials and art you'll love for years to come.
Scroll on for 10 dorm room wall decor ideas that are fun, affordable and bound to make you feel at home.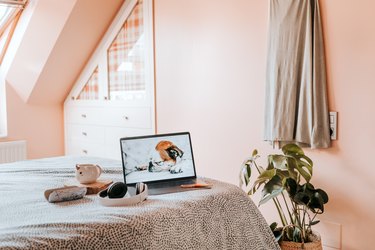 1. Faux Spring Flower Garland, 1-Count
When you're deep in the throes of studying for fall semester finals, you'll want your dorm room to be as cheerful and serene as possible. Live flowers always do the trick, but they're expensive—not exactly college student budget friendly—and temporary. Instead, bring color and life into your room with this faux flower garland from Urban Outfitters. It could define the space behind your bed if you're lacking a headboard, or string them behind a desk area to energize you to keep writing that 5,000-word philosophy essay. Each garland is 71 inches long, so you may want to buy a few for a fuller look.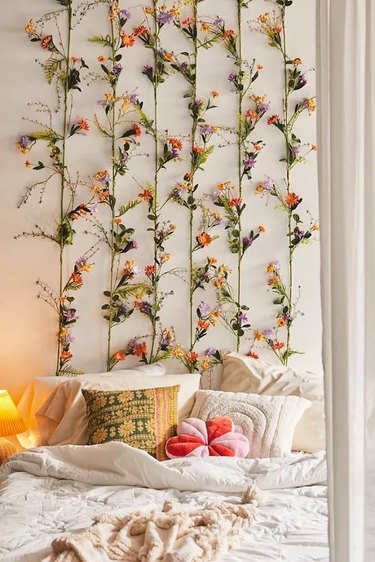 2. Retro Rainbow Wall Decal
Hello, color! All your new friends will want to hang out in your room if it's decked out in this retro wall decal. The curvy shape brings the illusion of movement into your space, tricking the eye into thinking your room is bigger than it is—so important for small spaces. This decal comes in various sizes and orientations, and can also be customized with a different color scheme too. (Wouldn't pastels be pretty?) Before clicking "add to cart," double check that your dorm's walls are smooth; bumpy or textured walls will create air bubbles and the edges could possibly curl. Rest easy that it'll come off effortlessly at the end of spring semester too, since it's guaranteed to be removed residue-free for up to two years after application.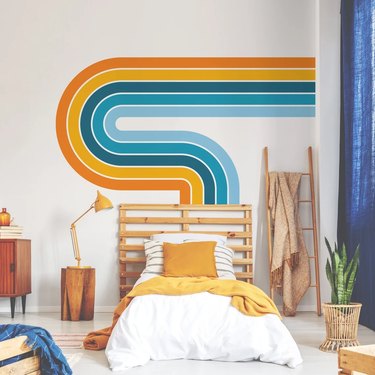 3. Cherry Acrylic Wall Art
This cherry-shaped acrylic piece is part art, part mirror, and entirely cool. Since it's covered in a metallic sheen, it'll bounce light around your space, helping your teeny tiny dorm feel roomier. Plus, it adds serious fun and a much-needed pop of color to a dorm's bland white walls too. Now comes the hard part: Choosing between hot pink or red.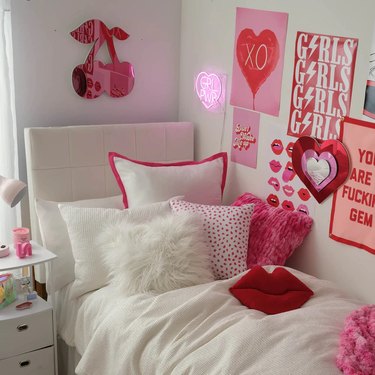 4. Gallery Wall with Everyday Print Set
Whether you're moving 10 miles or 10 states away from home, surrounding yourself with photos of your besties and family is important to help stave off homesickness. Head straight to Artifact Uprising for high-quality printed pictures to use as décor. Choose between multiple sizes, paper types, and whether you want a border or not, then upload 10, 25 or 50 of your favorite pics straight from your phone. Our advice: Opt for 5 inch by 7 inch matte photos with a border, then arrange them on a corkboard or simply tape them to the wall with washi tape for a DIY gallery wall. As you make friends and memories throughout your freshman year, print another batch and add them to your wall too.
5. Bohemian Macrame Wall Art
Make a statement—a laid-back, zen statement—with an oversized macrame wall hanging, like this one, handmade by an Etsy artist. It'll add texture, pattern and a boho vibe to your dorm room. If you don't have a headboard, hang it above your bed to define that space. There's no wrong place to hang this macrame beauty though. Keep in mind that a dowel is not included, so don't forget to add one to your shopping list.
6. Propagation Station Wall Hanging
If you're interested in dipping your toes into being a plant parent, start with a propagation station where you can grow roots on clippings from various plants. (Maybe you can snip off clippings from your parents' plants as a reminder of home—just be sure to double check those specific plants can be propagated first.) A propagation station wall hanging adds much-needed greenery and life to small dorm rooms that are often plagued with unfortunate overhead lighting. Plus, you won't have to worry that you'll return home from spring break to a room full of dead plants. Win/win.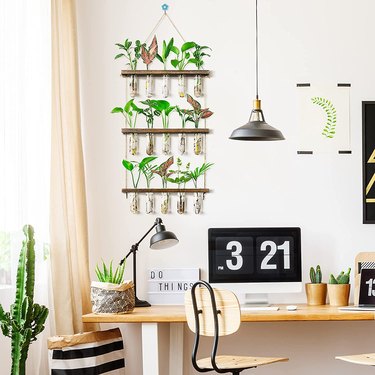 7. Hexagon Removable Wallpaper, 20" W x 16.5' L
The fastest way to make a big impact on your dorm room decor is with peel-and-stick removable wallpaper. We love this bold geometric design, which adds an elegant, energetic feel to your room, and is neutral enough to easily accessorize around. It's simple to install, though you'll want the moral support and extra set of eyes from a parent, roommate or friend to make sure you're lining the panels up correctly. It's just as easy to remove too. Before clicking "checkout," be sure to get the thumbs up from your housing authority. Assure them it'll elevate your room's design and won't leave behind any residue.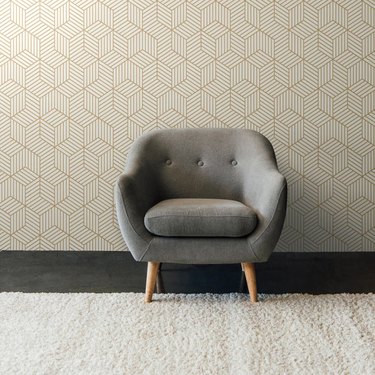 8. Personalized Roommate Art Print
Fingers crossed you'll hit it off with your freshman year roommate. If all goes well, consider this new friendship the start of a life-long bond. To celebrate that special relationship, add a personalized piece of art to your space, like this art print. There are nearly endless options for outfits, hairstyles and other ways to personalize the print so the final result should be uncanny to you and your roommate. If you're allowed to hang wall art on your door, this would be a perfect welcome to your room.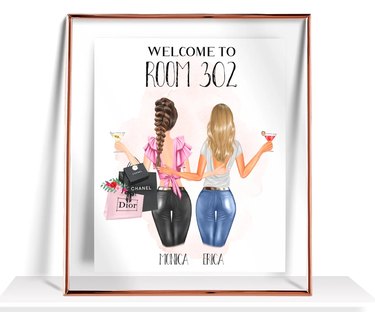 If you're hoping to study abroad in France, how about an artful map of Paris? Rifle Paper Co. has no shortage of charming art prints, including their best-selling floral designs, which would add a healthy dose of color to your dorm room decor too. Each of their prints comes in multiple sizes and several framing options, including no frame at all. If your budget allows, opt for the frame. It'll feel more like grown-up wall art, and less like you pinned a pretty picture onto your dorm room wall.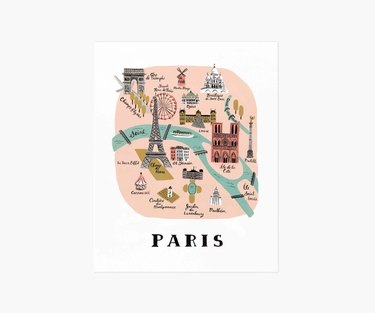 10. Mod Clips String Lights
The best dorm room decor is fun but also has serious functionality, like this oh-so-cute string of clip-lights, where you can secure your favorite pics. String lights would bring a soft glow to your room, ideal for winding down after a stressful day of tests and also for setting the mood when your crush from down the hall comes over. The fact that it includes clips so you can hang funny pics of you and your BFFs? All the better.