Retirement is a special time in a person's life. If you know someone who has labored for many years to provide for himself and his family and whose working years are finally coming to an end, there may be no better way to show your appreciation than to create a video tribute and memorial. You don't have to be a computer wizard to make a video tribute, as there are web sites that can do most of the hard work for you.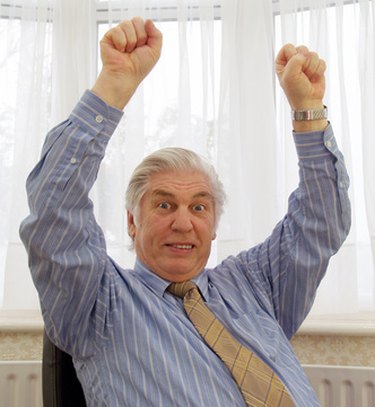 Things You'll Need
Pictures

Camcorder

Firewire Cable

Scanner

Movie Maker
Step 1
Gather all relevant pictures of the person that is retiring. Look for pictures of him at work functions such as holiday parties, as well as pictures of him throughout the time period he spent at the company.
Step 2
Shoot a video of the retiring person's boss and coworkers. Have them offer well wishes and share a few short stories about their experiences with him. Use a tripod to avoid shakiness and shoot in a well-lit environment. Shoot in different locations. For example, shoot one person at her desk and another at the coffee machine.
Step 3
Choose a song representing the retiring person's work life. Applicable songs might include "9 to 5" by Dolly Parton, "Take This Job and Shove It" by Johnny Paycheck and "Young at Heart" by Frank Sinatra. These can be purchased through online music distributors such as iTunes and Amazon.
Step 4
Create a folder on your computer desktop and scan the pictures you have gathered onto a PC. Save them in the new folder.
Step 5
Download Movie Maker by going to the Live website (see Resources), clicking "Download Now" and following the download links.
Step 6
Download the video clips you have shot onto a PC. This is commonly done by connecting one end of a firewire cable into the "I/O" port on the camcorder and the other into the firewire port on your PC, and then capturing the video via a video editing program such as Windows Movie Maker. Read your camcorder's instruction manual as each camcorder may differ.
Step 7
Import the music, pictures and video clips into Movie Maker. Click "Add Videos and Photos" and locate the files you want. Click on them and click "Open." Click "Add Music" and locate the music file you want. Click on it and click "Open."
Step 8
Click "Title." Click on the "Enter text here" box and type in a title, such as "Joe's retirement party."
Step 9
Save the retirement movie you have created by clicking the blue box in the upper left corner. Select "Save Movie." You can save it onto your computer to email it or even burn it onto a DVD for the retiree to keep.
Tip
Read the Movie Maker user help section to learn how to fully utilize this program's many features in detail.