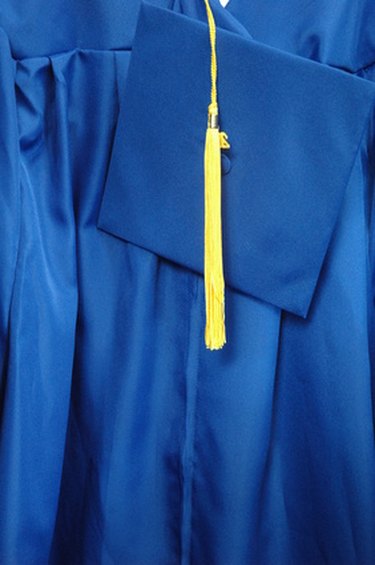 A college graduation announcement lets family and friends know about the graduate's significant accomplishment. If he's graduating with honors, be sure to include this achievement on the announcement. Whether the parents of the graduate or the university are announcing the graduation, it is customary to include honors information in addition to the essential details about the graduate's degree and the ceremony's location.
Step 1
Start the announcement with the graduate's parents or university. Use wording such as, "Mr. and Mrs. Noah Marks announce the graduation of their daughter, Amy" or "The University of Florida College of Journalism and Communications announces the graduation of Amy Elizabeth Marks."
Step 2
Identify the degree that the graduate is earning. This text can be a part of the sentence introduced in Step 1. Continue that sentence, writing "with a Bachelor of Science in advertising." Spell out the degree name rather than using abbreviations.
Step 3
List the honors earned on the next line. You can simply put "with honors" if the school does not differentiate between honors. If it does, use the honor type the graduate earned—typically, students graduate summa cum laude, magna cum laude and cum laude.
Step 4
Provide general information about the graduation ceremony. While the graduation announcement does not serve as an invitation to the ceremony, readers will like to know when it is taking place. Begin this information with "The graduation ceremony will be held on," and then list the date and location, such as "May 3, Stephen C. O'Connell Center, Gainesville, Florida."