Embrace your inner teacher and bring in the grades when you dress up as a teacher for Halloween. School teacher costumes can run the gamut from mundane to racy. These costumes are easily pulled together with the clothing most people already own and just a few handmade accessories. Many school teacher costumes can be made in just a matter of minutes and with few supplies.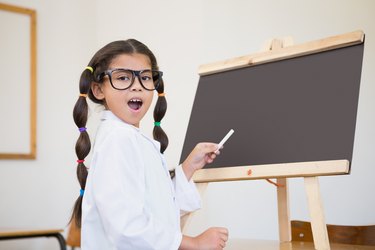 The nerdy teacher costume should include black pants, a white button-front shirt and suspenders. This outfit can be easily personalized with a few accessories. Select a wildly printed necktie and cut the bottom third off, and then hem it. Use white sports tape in the center of a pair of glasses to indicate the frames have been repaired.
Create your own pocket protector with two pieces of card stock and some white duct tape. Simply cut one piece of card stock 4 5/8 x 3 3/4 inches. Cut the second piece of card stock 1 inch shorter. Tape the pieces of paper together on three sides, and cover with duct tape. Cut another piece of paper that measures 1 x 3 3/4 inches. Cover this piece of paper with duct tape and tape it to the front edge of the pocket protector. Mess up your hair and spray it in place. Pat it with white powder to create the appearance of chalk dust.
Dress Up as a Teacher for Elementary School
Select modest clothing such as a pair of trousers, a button-front shirt and cardigan to dress up as a teacher for elementary students. Add jewelry items that look as though they've been created by school children. Make a simple pasta necklace. Place pasta noodles on toothpicks and dip noodles into acrylic paint. Set the toothpicks into a recycled meat tray to dry. Once they're dry, string them on a cord and then tie the ends.
Construct a tissue paper flower brooch for the front of your cardigan. Layer several pieces of tissue paper and fold to make a fan. Tie a piece of string in the middle and then cut the ends of the paper so that the paper is curved. Bend the paper upwards and pull it apart until a flower forms. Hot glue a pin back onto the back of the flower to .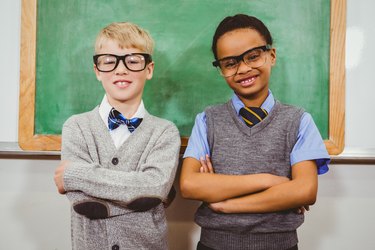 Select a knee-length pencil skirt, button-up shirt with rolled sleeves and librarian-styled glasses. Pull your hair up into a messy bun with a pencil sticking through its center, or wear it in low pigtails. Have fun with accessories. Make a riding crop for use on naughty students. Use an 18-inch dowel rod and hot glue a 1 x 4-inch piece of leather to one end. Add hot glue along the length of the dowel rod and wrap it with leather.
Create a sexy school teacher necklace out of a dog collar and rhinestones. Rub the leather with alcohol and let it dry. Randomly hot glue rhinestones to its surface to dress up as a teacher with naughty on her agenda.
Teacher Costume Prop Ideas
Complete any school teacher costume with the use of props. Use an oversize calculator as a prop for the nerdy teacher costume. Carry a personal chalkboard printed with the ABCs for the elementary teacher costume. Clip a pair of handcuffs to the belt loop of the sexy teacher's skirt.