Things You'll Need
Gift bag

Gift items

Ribbon or bows (optional)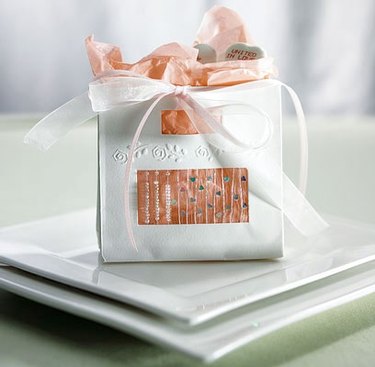 Sometimes you need to give a gift while on a budget. Gift bags are a great idea, and they don't have to hurt your wallet. Show your friends and family how thoughtful you are with a grab bag. They'll enjoying opening a gift that has more than one item in it. With a grab bag, you can add as much as you want for very little cost.
Step 1
Decide whom your bag is for. For example, if you are going to a baby shower, then your gift bag will contain baby items or gifts for the mother-to-be.
Step 2
Find items to fill your gift bag. Choose things that are inexpensive if you're on a budget. A dollar store is a great place to find inexpensive gifts. Let's say that your gift recipient is your mom. The dollar store has things you can add to your gift bag, such as decorated stationery, inexpensive picture frames and cute pens.
Step 3
Use sample items. Samples are a great item to usesince there are so many things that you can put in there. Perfume samples, cosmetic samples, men's toiletry samples and even packaged food samples are just some of the things you can add.
Step 4
Use freebies. Sometimes you get free items with things you have purchased. Most major department-store cosmetics counters will give away a free tote bag and sample sizes of cosmetics. Use these to fill your gift bag for a woman. The men's counter also has freebies. For a child, use fast-food freebie toys and books or dollar-store toys to fill the gift bag.
Step 5
Use homemade items. Add items at Christmas or holidays such as home-baked bread or cookies. If you give out homemade salsa, decorate your mason jar. Homemade bread can be wrapped in special plastic wrap and decorated with a custom label. Cookies can be given in a decorative tin.