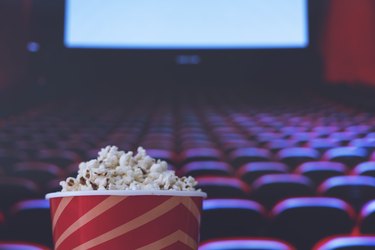 A movie night at school can foster a real sense of community, encouraging students and families to join together in an activity that forms long-lasting bonds. These events require careful planning, though, as you will need to choose the right movie and provide for snacks while making sure that attendees are safe and comfortable. It doesn't have to be done at night either; a fun school movie day is great for younger kids.
Planning for a Movie Night at School
One of the first tasks for planning a school movie day or night is choosing a venue. It's important to remember that you need to have enough seats and the right kind of screen. It is recommended to use a 10-foot screen for 100 to 150 people and a 16-foot screen for more than 500 guests. In many cases, the school's auditorium will suffice.
Many schools show the movies outdoors, which can be great if the weather cooperates. This will not work during the day, though, since no one will be able to see the screen. If the movie will be shown outdoors, all of the seats may have to be brought into the screening area, and you will also have to rent a screen if there is not one available.
What Movie Should You Choose?
It can be harder to obtain newer releases, so look for ones that are a few years old, like "Despicable Me 3," "Sherlock Gnomes" or "A Wrinkle in Time." During the holidays, audiences will appreciate "Frozen" or "Elf." Be sure to stick to G-rated movies for elementary-age children. These can also be shown in classrooms as long as you have the right equipment.
Older kids may not appreciate those films whether shown on a movie night or during class. If you are wondering what movies to watch in class for middle school, consider "The Imitation Game," "The Color Purple" or "Freedom Writers." Other good movies for the classroom or movie days/nights include "Up," "Hidden Figures" and "Big Hero 6."
How Do You Get the Movies?
You are not permitted to show these kinds of movies without a license. Showing a copyrighted movie for nonteaching activities at a school poses the risk of copyright infringement and fines. You need to purchase a public performance site license before showing the movie, and there are a few ways to do this. It shouldn't cost more than $100, and it may include multiple rentals.
You can check with the copyright holder about its process. Sometimes, the movie's website provides this information, or you may have to contact the distributor. There are also movie licensing services that can make this easier. The best-known ones include Movie Licensing USA and Swank, who represent Walt Disney Studios, Warner Bros., DreamWorks Pictures and more. Criterion Pictures USA represents New Line Cinema, Columbia Pictures and some of the same ones as Movie Licensing USA and Swank.
Tips for a Successful Movie Night
Many volunteers are required to have a successful movie night. The event has to be promoted at least a month in advance, and tickets and food can be sold to turn it into a fundraiser. Assign committees for the different categories, like promotions, ticket purchases, seating and so forth. Advertise with flyers and emails and on social media and people will be clamoring for tickets.
Use bookkeeping software to keep track of purchases and do not sell more tickets than the amount of seats available. Have parents donate food to sell, which can make it an even better fundraiser. You can decorate the venue with balloons or use holiday decorations if appropriate. Also be sure to have volunteers to act as ushers, to work at the refreshment booth and to help set up and run the projector. It's also a good idea to have some people acting as security during the event.