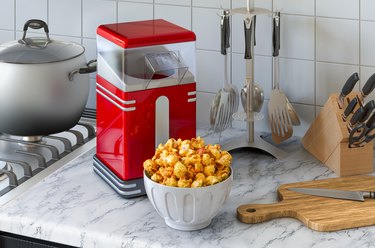 If there's one snack that practically goes hand in hand with movie night, it's popcorn. It's delicious, customizable, easy to make and even easier to eat. Though you can make popcorn in the microwave using store-bought, pre-packaged bags or on the stovetop using old-school disposable popping pans (Jiffy Pop, anyone?), a good popcorn maker can help you make popcorn in larger quantities. It's also healthier than pre-packaged popcorn as it gives you more control over the amount of butter, salt and oil that goes in. Additionally, while more research is needed, scientists have discovered a possible link between chemicals called perfluorinated compounds (PFCs) commonly found in pre-packaged bags of popcorn (as well as other food packaging), and cancer.
Types of Home Popcorn Makers
There are three main types of home popcorn makers:
​Microwave Popcorn Makers​: The most basic option, they're typically glass, silicone or plastic bowls with vented lids that you fill with kernels and little to no oil before popping it in the microwave. They're dishwasher-safe and easy to clean.
​Electric Popcorn Makers​: Also known as air poppers, these countertop appliances circulate hot air to pop popcorn kernels, similar to how an air fryer works. They don't require any oil, so they produce the healthiest popcorn. They're the most expensive type of popcorn maker.
​Stovetop Popcorn Makers​: These pots include hand cranks that you turn to ensure the kernels pop evenly. Because you don't have to continually shake them, they're safer and more reliable than traditional pots. They're usually made from stainless steel or aluminum and are easy to clean. Stovetop popcorn makers are ideal for old-fashioned recipes like popcorn balls or kettle corn.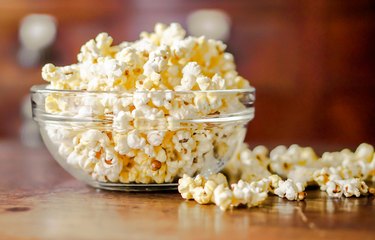 What to Consider When Purchasing a Popcorn Maker
​Capacity​: How much popcorn do you want to make at once? If it's just you and a significant other or a couple of friends, you probably don't need that much. If you're hosting a huge movie night with tons of guests, you'll probably want a large electric popcorn maker. Consider also how much popcorn may get wasted.
​Cooking Method​: As long as you're not adding heaps of butter, oil and salt, all three types of popcorn makers can produce popcorn that's healthier than many pre-packaged popcorn brands. Air-popped popcorn is typically the healthiest and doesn't require much effort. Stovetop popcorn requires more effort but arguably produces the tastiest and crunchiest results. Microwave popcorn is the easiest to make. For oil-free popping, electric models are your best bet. If you want to add butter (or even have the butter added automatically), some electric models are equipped for that, too.
Tip
If you do want to use oil when making popcorn, some healthy and great-tasting options include olive oil, canola oil, coconut oil, avocado oil and red palm oil.
​Cleanup​: Every type of popcorn maker will require at least some cleanup, so look for parts that are dishwasher-safe or easy to wipe down with a damp sponge.
With these considerations in mind, we've rounded up the best home popcorn makers in 2022.
The Best Overall Popcorn Maker
Presto Poplite Hot Air Popper
The Presto Poplite is easy to use, oil-free and affordable. It air-pops up to 18 cups of popcorn in just a few minutes, making it perfect for impromptu movie nights with friends. It includes a built-in tray for melting butter that doubles as a measuring cup or scoop. All you have to do is pour popcorn kernels directly into the chute, add butter to the melting tray (if desired) and plug it in. Within a few minutes, you'll have delicious, crispy popcorn popping up out of the chute and directly into your bowl. Because it's oil-free, it's pretty easy to clean—a wipedown with a damp sponge and a quick, soapy hand wash for the butter tray will do. The air popper comes with a built-in cord wrap for convenient storage. The only downside is that there's no on/off button, so the only way to turn it off is to unplug it.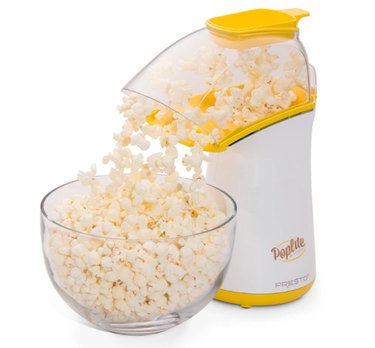 Runner-Up Best Electric Popcorn Maker
West Bend Stir Crazy Popcorn Machine
One of the pluses of this electric model is that the popcorn is self-contained as it's popping, thanks to the machine's vented cover—so you don't need to worry about stray popcorn making a small mess on your countertop. You can use it without oil for a healthier snack, or add melted butter to the butter well that's built into the cover for that movie theater popcorn taste. It makes up to a generous 6 quarts (24 cups) of popcorn at a time. After popping, the lid cover can double as a popcorn bowl for easy sharing (but you may want to let it cool off a bit). The base of the machine includes a convenient cord wrapping design, while the machine itself nests snugly inside the cover for space-saving storage.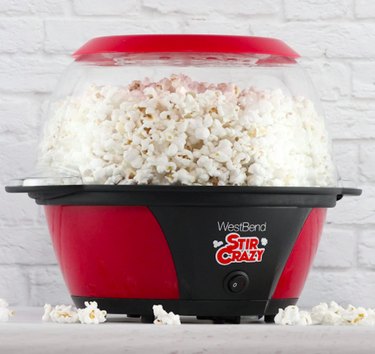 The Best Microwave Popcorn Maker
Cuisinart Microwave Popcorn Maker
If you want to keep things ultra-simple and yet healthier than a pre-packaged bag of microwavable popcorn, Cuisinart's microwave popcorn maker is a great value. It makes up to 10 cups of popcorn at once in just a few minutes. Made from silicone, the bowl collapses down for convenient storage and comes with a clear plastic lid to prevent spillage. You can add oil, salt and other flavorings as you wish, but oil isn't required. It doesn't get much easier than this.
The Best Stovetop Popcorn Maker
Wabash Family Farms™ The Original Whirley Pop™ Stovetop Popper
This traditional-style stovetop popcorn maker produces popcorn that tastes very similar to the movie theater popcorn you're probably used to. It yields up to 6 quarts (24 cups) of popcorn in three minutes and leaves very few kernels unpopped, if any. It's designed similarly to a medium-sized cooking pot but features a crank with a wooden handle that you must turn constantly during the popping process, so it does require a bit of effort and attention (it's easy to crank, however). The crank's hardwood handle stays cool throughout the process. All you need to add is as little as a teaspoon of oil before you begin popping. The pot and lid are made from aluminium that isn't the thickest, but as long as you're careful handling it, this classic stovetop popper should last a very long time (it comes with a 25-year full warranty).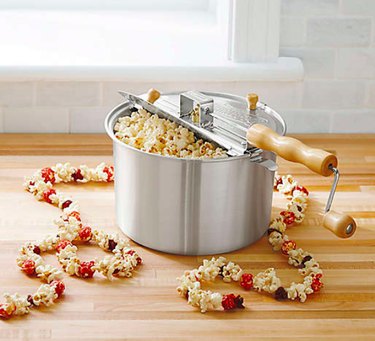 The Best Personal-Size Popcorn Maker
Ecolution Original Microwave Micro-Pop Popcorn Popper
If you live alone or only need a snack-size portion for movie night, this microwavable popcorn popper will be just right. It makes up to 1 1/2 quarts (6 cups) of popcorn in three minutes and doesn't require any oil or butter—although you can certainly add some, if you like. The popper is made from durable, temperature-safe and BPA-free borosilicate glass, while the ergonomic handle remains cool. The popper's three-in-one lid helps you measure, cover and melt butter, while the popper's wide mouth makes preparing and sharing easy. The only minor downside is that because it's made from glass, it's more fragile, so just be careful handling and storing it.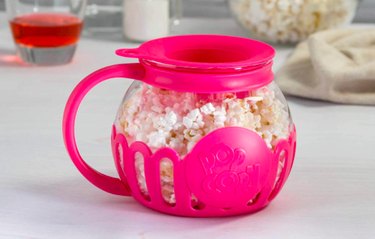 The Best Popcorn Maker for Home Theaters
West Bend Hot Oil Theater-Style Popcorn Machine
For anyone who wants to make their movie-viewing space feel more like a traditional theater, this popcorn machine from West Bend will add the perfect touch. It looks just like the commercial popcorn machines that movie theater concession counters use, but it's been designed for easy home use. Its 4-quart kettle yields five to six servings of popcorn in a few minutes. While it's the largest popcorn maker on this list, its footprint is less than eleven inches square and it stands under 18 inches tall, so it can still sit on your kitchen or snack bar countertop. The non-stick kettle is removable and requires no pre-heating, while its lid magnetically attaches for extra security. The machine's door tilts so serving is easy and effortless. In addition to the machine, kettle and stirring rod, you get a serving tray, a kernel measuring cup, an oil measuring spoon and a popcorn scoop.