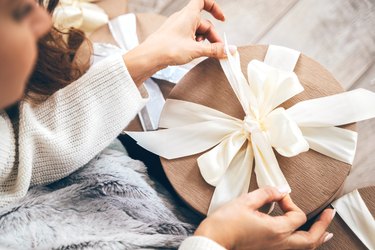 May and June are the season of college graduation, and if there's a recent or upcoming college graduate in your life, we've got great gift ideas for you. They're not quite as big as a graduation trip to Europe, but they're thoughtful, useful and much more affordable. Whether your college grad is headed to graduate school in the fall, about to begin their career or is still figuring things out, these gifts will help make their transition from undergraduate life to full-fledged adulthood a bit easier.
1. A Fast and Easy Recipe Cookbook
One of the most important things your recent college grad needs to be able to do is feed themselves. Takeout and food delivery app fees add up quickly, so being able to cook—and being more in control of how much they spend—will be a game-changer.
We recommend "How to Feed Yourself: 100 Fast, Cheap, and Reliable Recipes for Cooking When You Don't Know What You're Doing: A Cookbook" by Spoon University. Packed with, well, 100 recipes that won't scare your newbie cook away (plenty of which only call for about five ingredients), it's got everything from all the basic ways to cook eggs to daring comfort food recipes, like tater tot-waffle-grilled cheese! The book's available in Kindle, paperback and spiral-bound formats.
2. An Apple Fitness Watch
Exercise is good for everyone, and regardless of what your recent grad is up to post-college, they'd be wise to carve out some time to get their steps in—which can help them manage stress levels, too.
This seventh-generation Apple watch will be a welcome companion to their fitness regimen, as it measures blood oxygen levels, can take an ECG (electrocardiogram) at any time, send high and low heart rate notifications, track your steps and other fitness activity, connect to the Fitness, Mindfulness and Sleep apps, and more. It even boasts innovative safety features like crash detection and fall detection, which can immediately connect users with emergency services in the case of an accident like a car crash.
Like the Series 7 watch, its always-on 41-millimeter Retina display offers nearly 20% more screen area than the Series 6, making it easier to read. Such a precious gift may be a friendly motivator to your recent grad to make some room for fitness.
3. Exercise-Friendly Wireless Earbuds
Continuing the theme of fitness-related gifts, a pair of exercise-friendly wireless earbuds can make your recipient's workout or run more enjoyable. Boasting ShakeGrip technology and IP57 water- and sweat-proof qualities, these Jabra Elite 7 Active earbuds are designed to stay in your ears no matter how intensely you're working. You can set your preferred level of noise control and even use just one earbud at a time in Mono Mode. They provide crystal-clear sound that's also great for taking work calls in noisy environments, and each earbud offers up to 8 hours of battery life (30 hours inside the case).
4. A Distraction-Free Reading Device
These days, during any given week, many of us do most of our reading on our smartphones or tablets—and as you may have experienced, it can be easy to get distracted by ads, text messages, Snaps or even just having the entire internet at your fingertips. For the avid reader who doesn't have the space for stacks of new books, an Amazon Kindle is like having a bookstore on your tablet (but the books cost a lot less).
While it's a bit pricier than other models, we recommend the Amazon Kindle Paperwhite Signature Edition for its 6.8-inch display, 32 gigabytes of storage and wireless charging. Best of all, it's not ad-supported, so when your college grad wants to get lost in their new page-turner, they can enjoy reading uninterrupted (by their screen, at least).
5. A Three-in-One Charging Spot
It doesn't get much more convenient than this! If your recent college grad uses Apple products and may be moving into an apartment without an abundance of outlets, this one-stop charging station can free up space for plugging in lamps and other electronics. Thanks to its single cord and built-in charging modules, this charging stand by Satechi can charge their iPhone, Apple Watch and Apple AirPods Pro simultaneously while using just one outlet. It's magnetic, too.
The charging stand is compatible with the iPhone 12 and 13 series, the Apple watch series 1 through 7, and AirPods Pro and AirPods 2. Note: the charging stand does require a 20-watt power adapter, which is sold separately.
6. A Stylish Spinner Suitcase
Chances are, as your recent college grad progresses through their career and life, they'll end up traveling more, whether on work-related business or for leisure time. And a suitcase that can roll in any direction will make traveling easier than a standard two-wheeled suitcase will. This 21-inch carry-on suitcase from well-known brand SwissGear is a great place to start.
Available in several different colors, it rests on four 360-degree, multi-directional spinner wheels that are perfect for navigating an overcrowded airport or sidewalk. This line of suitcases is made from high-quality polyester and includes several outer zipper pockets of varying sizes for extra storage.
Air fryers have been all the rage for the past few years, so your recent grad's kitchen may not feel complete without one. The DASH Tasti-Crisp™ Digital Air Fryer allows you to make mouthwatering meals while reducing their fat content by 70-80%, since it eliminates the need for using a lot of oil.
The Tasti-Crisp Digital model offers a 2.6-quart capacity (enough to serve two to four people), easy temperature adjustments between 200 and 400 degrees Fahrenheit, and three cooking presets. It's relatively compact, yet still offers enough capacity to feed a couple of friends in addition to yourself.
If your recent grad is headed off to a rainy climate (or already lives in one), an all-weather jacket can help protect their work attire or serve as appropriate clothes to wear on hikes. The Patagonia Torrentshell 3L jacket boasts waterproof materials, a deep hood, lined pockets and microfleece backing in the neck area to keep your grad comfortable. The hood can be rolled up and tucked away to reduce its bulkiness, and perhaps most ingenious of all, it packs up neatly into its own pocket. It's available in men's and women's sizes and comes in a variety of colors.
9. A Meal Prep Kit Subscription
It can be hard adjusting to post-college life, especially when it comes to feeding yourself. To help your recent grad transition from convenient campus meal plans to cooking for themselves, a meal prep kit subscription like Blue Apron is a happy medium between cooking from scratch and ordering from a meal delivery service. Instead of sending you ready-made meals, Blue Apron sends you perfectly-portioned ingredients and easy-to-follow recipes to make specific meals, so it's like cooking for beginners—but the meals are far from bland.
Your grad can select their recipe preferences from Chef's Favorites, Wellness, Family-Friendly, and Fast & Easy, as well either two or four servings per meal and two to four meals per week. You might consider getting your grad a couple of weeks' worth of recipes as a trial run.
Plenty of people love coffee, but not everyone has an espresso machine. To complete your coffee-loving recent grad's first kitchen post-college, consider getting them this De'Longhi Stilosa Manual Espresso Machine. While it's not digital and maybe isn't the most stylish of espresso machines, it's far more affordable than most, and its contemporary and compact design means it won't take up a huge amount of counter space.
It's got a 15 bar pump for extracting rich espresso and a manual milk frother for making cappuccinos and lattes. If frequenting Starbucks has become a bit too expensive for them, your grad can make their own version at home for themselves and for guests.
11. A DIY Alternative to Store-Bought Soda
Continuing with the do-it-yourself beverage theme, SodaStream is a tasty alternative to store-brand sodas your recent grad may enjoy. The SodaStream Fizzi One Touch will not only help them save money, but it's also far more eco-friendly than buying cans or bottles from the store (even with recycling).
The Fizzi One Touch includes a CO2 cylinder and 1-liter carbonating bottle. Each CO2 cylinder is good for carbonating up to 60 liters of water. The One Touch is compatible with all SodaStream flavors and carbonation bottles. Just don't forget to include some bubly™ drops with your gift!
12. A Tempered Glass Drinkware Set
To help stock your recent grad's kitchen cupboards in their new apartment, consider getting them a drinkware set—and not just any drinkware, but tempered glass drinkware. Not familiar with tempered glass? Well, unlike annealed or "regular" glass, which breaks easily into large, sharp shards and splinters upon impact, tempered glass is about four times stronger and designed to break into thousands of tiny pieces that are a lot less lethal.
These tempered glass drinking glasses from highly-rated French Brand, Duralex, come in sets of 6 and a variety of sizes ranging from 3.25 fluid ounces to 17.62 fluid ounces. They're highly dishwasher-safe and don't break easily, so if your recent grad or their roommates tends to be a little clumsy, they have less to worry about.
Cast-iron skillets are extremely versatile, but since cast iron can get pretty expensive, home cooks on a budget may opt for less costly alternatives, such as nonstick skillets. By gifting your recent college grad a true cast-iron skillet, you'll give them a leg up in the kitchen they might otherwise avoid if they don't have deep pockets.
This 10.25-inch enameled cast-iron skillet by famed brand Le Creuset delivers superior heat reduction and retention and comes in a variety of colors. Its black satin interior enamel is especially conducive to cooking at high temperatures, up to 500 degrees Fahrenheit. It's also dishwasher-safe and safe to use with utensils.
For a considerably more affordable, yet still high-quality option, we recommend the Lodge Cast-Iron Skillet, which comes with a silicone hot handle holder.
14. A Robotic Vacuum Cleaner
If your recent grad is on a tight budget, a robotic vacuum cleaner is probably far down their list of must-have essentials for their new apartment. That's where you come in.
The Shark RV754 ION Robot Vacuum is more than capable of keeping floors clean, without breaking the bank, either. It's WiFi-connected and offers up to 120 minutes of cleaning on a single charge. Its tri-brush system combines side brushes, channel brushes, and a multi-surface brush roll to adeptly handle dirt and debris.
Your recent grad can use Amazon Alexa or Google Assistant to make the vacuum clean at their command so it can get the job done while they work, study or relax.
Like coffee, smoothies are another morning favorite that may taste delicious, but gets pricey really quickly. With a personal blender like the Magic Bullet, your recent college grad can save money by skipping Nektar and Jamba Juice and making their own personal-sized smoothies, instead—perfect for a high-protein shake or smoothie before a morning run or workout. The Magic Bullet set includes a tall cup, a short cup, a party mug and comes with a 10-second recipe guide for fast and easy blends.