You can't save the environment on your own, but you can do your part by dramatically reducing the amount of trash you create. With some fabric and basic sewing skills, it takes no time at all to replace single-use products with reusable versions. These eco-friendly craft projects add color to your life, save you money and keep plastic out of landfills. In short — everybody wins.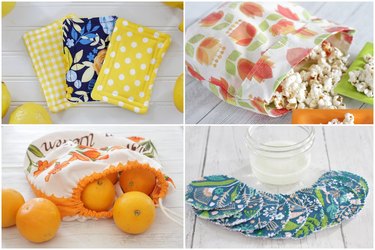 1. Zero-Waste Reusable Sponges
How many sponges have you thrown away in a lifetime? How much money did those sponges cost you? Made with fabric, batting and mesh fruit bags (picture those bags used to hold lemons or limes), these DIY reusable sponges can be tossed in the washing machine. Talk about easy cleanup.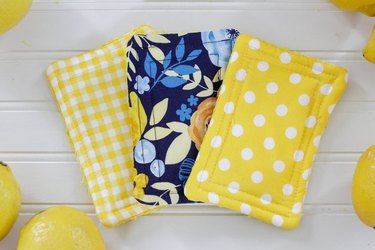 2. Reusable Microwave Popcorn Bag
Your craving for popcorn and your desire to cut down on waste don't have to conflict with one another. Sew your own microwavable popcorn bag from cotton fabric with this easy tutorial. Every time you whip up a batch of hot, fresh popcorn in your own colorful bag, you'll be impressed again with your skills.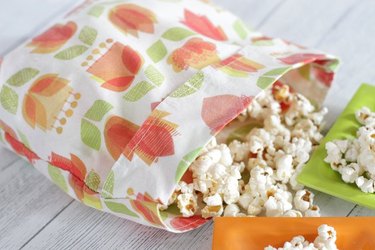 3. Reusable Makeup Remover Pads
Your pillowcases and your skin thank you for removing every trace of mascara and foundation at the end of the day. But using a few cotton wipes every day add up to a lot of waste. These reusable makeup pads are cut from terry cloth towels and stored in a gentle face wash solution. Toss them in a mesh bag and wash them with a load of towels.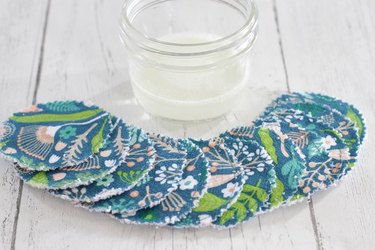 A tea drinker who enjoys two cups a day sends more than 700 tea bags to the landfill each year. Cut that number to zero by making your own reusable fabric tea bags. They're little more than fabric envelopes with simple drawstrings, so even a newbie sewer can quickly whip up enough of these bags for a week's worth of tea.
5. Reusable Grocery & Produce Bag
With single-use plastic bags now banned in many places, having a stash of reusable grocery totes on hand is a must for eco-conscious shoppers. These DIY reusable grocery bags are made from dish towels or fabric, with clothesline rope for drawstrings. They're super lightweight and perfect for sticking in a pocket or purse before shopping. Your grocery bags are bound to be more stylish than everyone else's store-bought bags.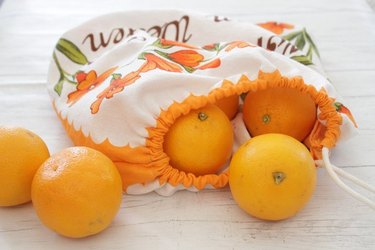 6. Reusable Beeswax Food Wraps
Trying to cut down on plastic wrap and sandwich bags? Beeswax wraps are the answer. They're moldable with the heat from your hands, so they can be shaped to cover an open bowl or wrapped around sandwiches and other foods. Made with fabric and beeswax pastilles, these reusable beeswax food wraps are easy to clean and can last for up to a year.
7. Reusable Pet Sack Grocery Bags
If you have a dog or cat, you know that buying their food in a jumbo bag is cost-effective — but did you know that the bag can find new life as a grocery tote? Pet food bags are sturdily constructed to hold 10-50 pounds of food, so they're up for the task of holding your groceries too. This tutorial for DIY reusable grocery bag actually requires no sewing, so it's a quick project for anyone no matter their skill level.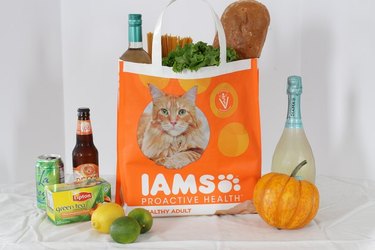 8. Reusable Vinyl Snack Bags
Snack time must be protected at all costs. Keep your snacks fresh, without wasting a single-use plastic bag, by making these reusable snack bags. Fabric, iron-on vinyl and hook and loop fasteners are the main components.
Remember when you were a kid and picking out a lunchbox was all about finding the perfect design? You can replicate that as an adult by choosing fabric you love to make your own reusable insulated lunch bag. You'll need a few kinds of fabric, including an insulated type, but all the effort is worthwhile when you get to admire your handiwork every single day... while enjoying your still-cold lunch, of course.