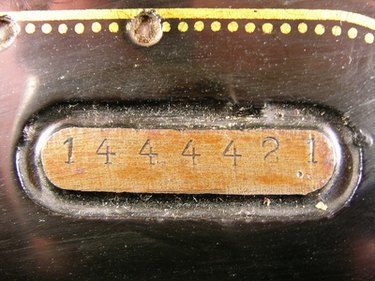 White sewing machines are durable, quality machines for the home seamstress that were common during the late 1800s and the first half of the 20th century. According to the International Sewing Machine Collectors' Society, the White Sewing Machine Company began production in 1858 and was manufacturing approximately 60,000 machines each year by the 1880s. From the 1930s to the 1950s, White supplied all the sewing machines sold by Sears Roebuck and Company. In the late 1950s, Husqvarna Viking acquired White. You can find out the year of a White sewing machine through Husqvarna Viking.
Step 1
Find the serial number on your sewing machine and write it on a piece of paper. Look for a numbered tag or a stamped number on the outside of your machine. Check the front, back, motor end and the bottom of the machine, in that order.
Step 2
Go to the Husqvarna Viking website. Click on "Contact Us" and find the phone number and hours of operation for the Consumer Affairs Department. Note that, as of August 2010, the toll-free number is 1-800-446-2333 and the hours of operation are 8 a.m. to 4 p.m. Central Standard Time, Monday through Friday.
Step 3
Call the Consumer Affairs Department and provide your name and location. Tell the Husqvarna Viking representative your sewing machine's serial number and ask the representative to date your machine.