Things You'll Need
Measuring tape

Fabric

Scissors

Elastic

Sewing machine and thread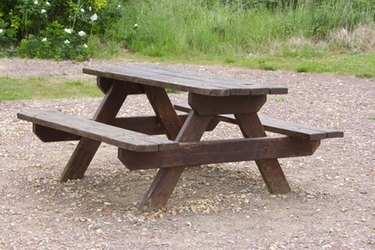 Whether you want covers for a bench inside your home or something to cover dirty, splintered picnic table benches at parks, sewing your own covers is a low-cost way to create a place to sit. Including foam in a cover provides comfort on wooden or metal benches. The foam also can be durable for washing, while light to easily roll up for storage. Use a waterproof fabric for outdoor upholstery if the bench will be left outdoors.
Step 1
Measure the length and width of the bench. If creating a cover for use at parks or campgrounds, measure 5 feet to 6 feet long and 12 inches wide. This will fit most benches.
Step 2
Cut out two pieces of fabric 3 inches wider and 2 inches longer than your bench measurements. Cut out two 12-inch strips of 3-inch wide elastic, or cut the elastic strips to a length that equals the width of the bench.
Step 3
Fold each length of elastic into a loop, overlapping the ends by half an inch. Pin a loop to either end of one of the pieces of fabric, placing each loop 8 inches in from each end. Pin to the right side of the fabric.
Step 4
Sew each loop to the fabric so that one side of the elastic loop is attached to the fabric, while the other hangs freely. Once the cover is complete, the loops slip over the ends of the bench to secure the cover to it.
Step 5
Place the two bench-length pieces of fabric together, right sides facing, with the elastic loops sandwiched between. Sew the two long sides and one of the short sides of the fabric together, then turn the cover out.
Step 6
Cut a piece of half-inch to 1-inch thick foam to the exact measurement of your bench. Slide the foam into the bench cover through the fabric's open end.
Step 7
Fold the fabric on the open end inside the cover. Sew it shut, taking care not to sew through the foam.
Tip
If you prefer, use fabric ties instead of elastic, or if the legs are at the extreme ends of the bench and prevent the elastic loops from slipping over.
Make a matching tablecloth for the covers.