Things You'll Need
Pencil

Paper

Scissors

Cotton fabric scraps

Matching or contrasting thread

Straight pins

Fine sewing needle

Sequins

Seed beads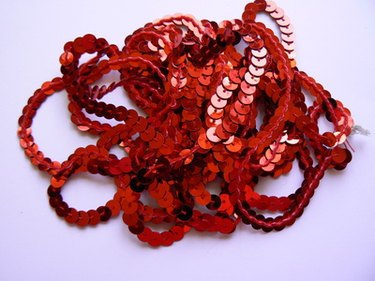 Sequins are found in a wide variety of styles, shapes, colors and designs. They can greatly change the look of clothing, costumes, hats or bags. Add sequins to your own fabric appliques to create even more interest. Design flowers, stars, the sun and moon or geometric shapes for the appliques, then add sequins for a unique look. Choose interesting cotton fabrics for your applique, fun sequins and seed beads, and let the creativity begin.
Making the Applique
Step 1
Trace or design a desired shape with a pencil onto paper, such as flower petals, leaves or animal faces. Cut the shape from the paper using scissors.
Step 2
Trace the shape onto cotton fabric. Cut out the shape from the fabric; this is your motif.
Step 3
Place your motif on a larger scrap of cotton fabric (wrong side of motif against right side of larger piece). Hold the motif and fabric in place with straight pins.
Step 4
Sew the motif to the larger piece of fabric at the edges of the motif, using small straight stitches by hand or machine.
Placing Sequins on Applique
Step 1
Thread a fine sewing needle with thread closely matching the fabric. Tie a knot at the end of the thread.
Step 2
Hold the needle under the applique, bring it up through both layers of fabric in the desired place, stopping when about 1 inch of the needle is exposed.
Step 3
Thread on a sequin and a seed bead. Pull the needle and thread all the way through the top, stopping just before the knot.
Step 4
Take the needle back through the sequin and through both layers of fabric. The needle and thread are again under the applique. Continue in this manner with remaining sequins and seed beads.
Step 5
Sew the edges of the applique by hand or machine using small straight stitches, or sew the edges when the applique is placed on your garment.