Things You'll Need
Princess-seam pants pattern

Suede leather

Scissors

Glue stick

Permanent marker

Sewing machine

Walking foot attachment

Glover's needle

Polyester thread

Lining fabric, such as rayon or silk charmeuse

Newsprint

Leather machine needles

Contact cement

1 1/2-inch ribbed elastic

Tape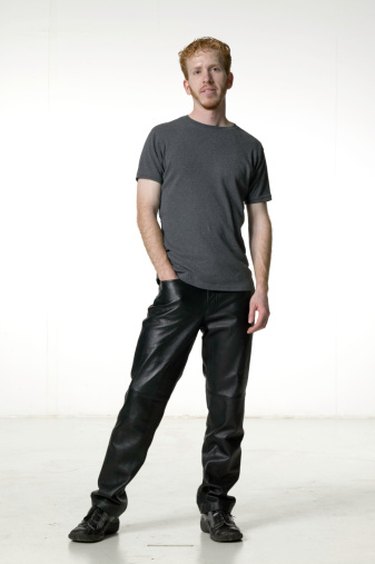 Make a fashion statement by creating pants out of leather. Suede leather pants offer both comfort and warmth. These pants are made out of supple suede and provide enough stretch to move about conveniently. Choose a princess-seam pants pattern to create these comfortable pants. A princess seams is created with a series of darts cut into the edges of the pattern to conform with body easily. A princess seam incorporated in seat portions of a leather pants pattern allows the pant to hang on the body correctly. (see ref 2)
Step 1
Cut the pattern out of the pattern paper. To maximize pattern use, trace pattern onto newsprint and cut out pattern. Save the original pattern as a template.
Step 2
Lay leather out with the right side up. Examine leather for blemishes or color variations. Mark those areas with a marker. Place pattern pieces around blemishes. For areas that have high amount of wear like the knee and seat areas, position the leather around the thickest portions of leather pieces. Cut out the pattern, leaving 1/2-inch margin for seams on the sides and bottoms, and a 3-inch margin at the top.
Step 3
Secure the pieces together right side in with a dab of a glue stick. When working with leather, the glue joins the pieces more securely than pins.
Step 4
Thread the sewing machine with polyester thread. Follow the manufacturer's instructions to thread the machine and wind the bobbin. Insert a leather or heavy- duty material needle. Attach the walking foot around the needle base of your sewing machine.
Step 5
Cut darts into the back pattern pieces, and sew together according to the pattern's instructions.
Step 6
Slash the top part of the side and front pattern pieces 3 inches down from the top at the 1/2-inch margin. Tack open with tape 1/8 inch wide. Sew in elastic according to pattern's instructions. The leather pants will be more comfortable with this extra margin.
Step 7
Set the stitch length between 8 to 12 stitches per inch. If stitches are too small, they will create a weak seam. Sew leather pieces together according to pattern within the 1/2 inch margins.
Step 8
Finish hem of pants with contact cement. Because leather is so thick, permanently bonding them with contact cement works betters than machine sewing narrow areas of thick leather. Allow to dry.