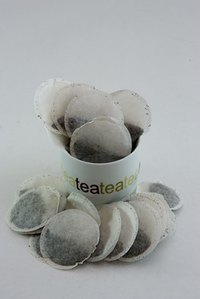 Staining a poster board can give it an aged or antiquated look. The process is effective for aging photographs or history projects. Staining paper is easy and can be accomplished with common household items such as tea bags and coffee grounds. Red or white teas produce a lighter shade, while black teas produce a darker and bolder look.
Things You'll Need
Tea bags
Hot water
Non glossy poster board
Sponge
Grinded coffee beans
Boil water for the tea using a kettle or a pot. Brew the tea in a cup of hot water for approximately 5 to 10 minutes–use two or three tea bags. Remove the bags from the water and let them cool. Do not place the tea bags on paper towel, as the colored water will drain from the bags. Use a small plate instead.
Lay the poster board on a table. The glossy side should face down. Take one tea bag, squeeze it slightly to remove some of the water and drag it evenly around the poster board. Continue until the tea bag has lost most of its color. Use the second tea bag in the same manner–until the poster board is completely stained with the tea.
Sprinkle ground coffee beans on top of the poster board. For a darker effect, rub some of the beans into the poster board using fingers or a sponge.
Use a sponge to remove excess tea water from the poster board. This will speed up the drying process.
Let the poster board dry. As it dries, the tea stains will become darker. If a darker shade is needed, repeat the process.