If transforming your home into a more eco-friendly place is important to you, then this zero-waste reusable sponge a good alternative to those traditional throw-away plastic dish sponges. Made from small scraps of fabric and a mesh fruit bag that would've otherwise been thrown away, this project will also use up some remnants from past projects. Choose colors and patterns to brighten up your kitchen and make washing dishes fun again. When you're finished scrubbing, just toss it in your washing machine with some towels and dry it on low heat. It's the sponge that keeps on giving.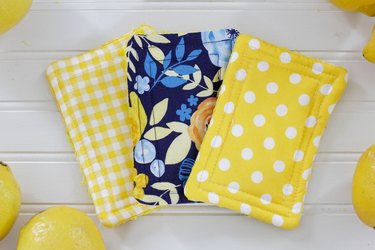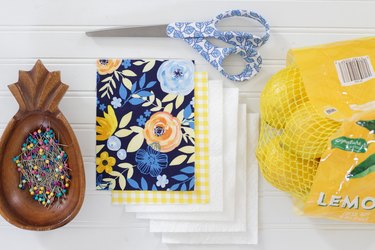 Not only is this project a wonderful way to change your kitchen into a more eco-friendly place, but this is a great beginning sewing project. If you're just starting out on your sewing adventure, you'll need a few tools to help you get going. You really don't need a fancy machine to sew most projects. The basic Brother LX3817 17-Stitch Full-Size Sewing Machine would be an excellent introduction machine. Sharp scissors are also a must when sewing. No need to get a plain-Jane pair either. Sewing scissors now come in all kinds of colors to make things even more interesting. These beautiful Fiskars 1005292 Gold Handle Knife Edge Bent Shears brighten my sewing projects. To make sure your sewing projects stay together when working you'll also need a package of straight pins like these colorful Singer Pearlized Head Pins. Equipped with a sewing machine, scissors and straight pins, you'll be all set to sew this project and many more.
Step 1
Remove the fruit from the mesh bag. Cut 2 pieces of 4 1/2-inch x 6-inch mesh from the bag.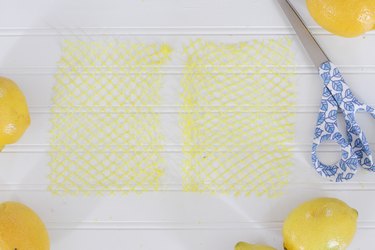 Step 2
Place one piece of cotton with the right side up, place the two pieces of mesh next, then place the other piece of cotton with the right side down on the mesh. Next, place 2 to 4 pieces of the cotton batting on top. Pin and sew the the layers, leaving a 3-inch opening in one of the long sides. Be sure to remove the pins as you sew.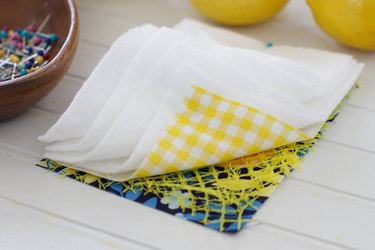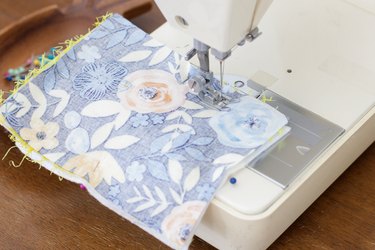 Step 3
Clip the corners to remove bulk. Be careful not to clip any of the stitches.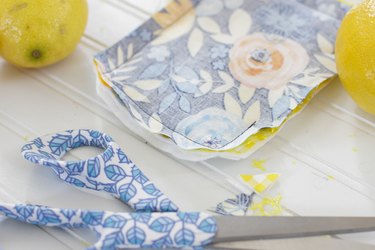 Step 4
Turn right side out by pulling the fabric layers through the opening.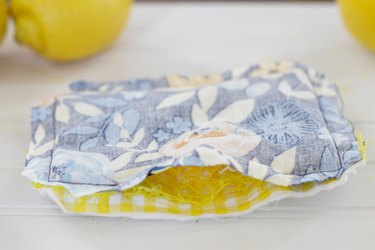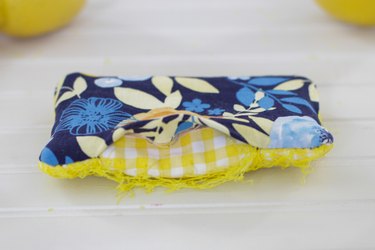 Step 5
Tuck in the raw edges of the opening. Pin and topstitch around the entire sponge. Be sure to remove the pins as you sew. Topstitch around the sponge a second time — this time, 1/4-inch in from the first topstitch line.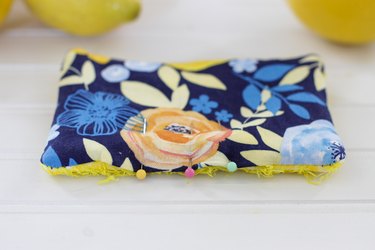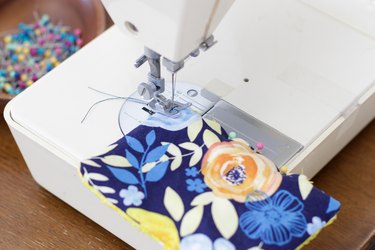 When you're finished using the sponges, throw them in your washing machine with a load of towels and dry on low heat for the sponge that keeps on scrubbing.