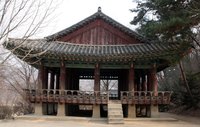 Many cultures often dictate how friends and family should help loved ones become comfortable in new homes. In some families or cultures, this extends no further than helping them move. In Korean culture, however, housewarming is a very important matter. Koreans believe the treatment of one's home can dictate things like good fortune, contentment and prosperity. For this reason, Korean family members shower their moving loved ones with specific gifts to enhance these properties of the home.
Washing Powders
Washing powders, or laundry detergent, may seem like a strange gift, but almost everyone uses it. This makes it a practical gift, if you think about it, and new couples will enjoy getting practical gifts like these. However, in Korean culture, washing powders have an alternate meaning. Not only does detergent symbolize a physically and spiritually pure home, it bubbles up when mixed with water. The round, shiny bubbles represent money and prosperity. The laundry detergent is a wish for the new homeowners to have a clean and prosperous place to live.
Toilet Paper
Toilet paper is another very practical gift. You can store a lot of it at one time, since it doesn't go bad and everyone uses it. Plus, freshly moved homeowners who are too tired to unpack right away will appreciate this necessary, but often overlooked, item. Like laundry detergent, toilet paper also symbolizes the wish for a clean and pure home. It also unrolls cleanly and smoothly for a long time, offering wishes for the lives of the homeowners to do the same.
Potted Plants
Potted plants add a touch of color and life to a home, especially if they have scented flowers. Koreans believe that green plants also represent prosperity, health and a thriving life and business. Two traditional plants include the window-leaf plant and the snake plant. The window-leaf plant has large green fronds with oblong holes between them. It tolerates dry, warm weather well, making it a low-maintenance houseplant. It also symbolizes good luck in business and often appears at Korean business openings. The snake plant has long, pointed leaves striated with shades of green. It blooms with dusky green flowers and likes dry, shady growing conditions.