Things You'll Need
Ice cube trays

Twist ties

2 wooden skewers

Floral tape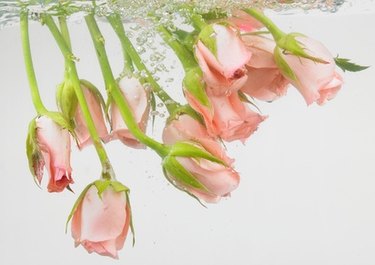 When it comes to parties and decorating, most ideas have already been done. It is difficult to choose party favors or decorations that your guests may never have seen. Try a simple trick with flowers and ice cubes to provide a little exoticism to their beverages and your party trays. These floral ice cubes fit well with almost any occasion, from bridal and baby showers to romantic evenings, luaus and Christmas parties. And the best part is you can actually eat the flowers within the ice cubes. Just make sure to use edible, nontoxic flowers such as roses, geraniums or pansies.
Flower Petal Ice Cubes
Step 1
Fill ice cube trays halfway full with water the night before your party.
Step 2
Wash the flower petals thoroughly. Again, make sure the flowers are nontoxic, clean, fresh and organic so no chemicals are present.
Step 3
Drop the petals into each cube compartment carefully and lightly. Put the trays into the freezer for about three to four hours, or until they are frozen solid.
Step 4
Take the trays out from the freezer, and fill each cube compartment to the top with water. Put the trays back into the freezer and freeze until you are ready to use.
Rose Bud Ice Cubes
Step 1
Cut roses so there is about only 1 to 2 inches of stem left, then secure each stem with a twist tie to a full-sized skewer with the rose buds facing downward. Attach each rose bud stem to the skewer so you will have as many rose buds hanging off the one skewer as there are ice cube compartments. Do the same with the other skewer.
Step 2
Put the rose buds upside down into the tray in their individual ice compartments.
Step 3
Hold the ends of the skewers down on the ice tray with floral tape. This will prevent the rose buds from floating up once water is added.
Step 4
Fill the ice tray with water, and freeze overnight or until use.