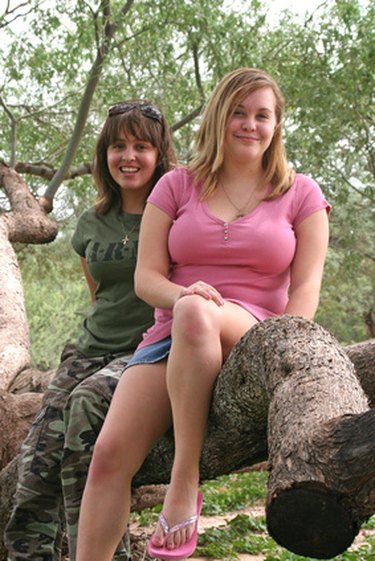 Your teen just reminded you that his birthday is in less than a month. You haven't made arrangements for a party yet, but you know that he's expecting a birthday bash. If you live in the Atlanta area, you have many options for throwing your teen a memorable birthday party.
Chocolate Party
Teens are never too old for candy, and at Chamberlain's Chocolate Factory, your teen and up to 29 of her friends can make chocolate creations. Party guests can make chocolate pizza and a personalized candy bar, according to the Chamberlain's Chocolate Factory website. As of April 2010, the cost for an hour and a half session depends on the number of party guests and is $150 to $438.
Chamberlain's Chocolate Factory 6365 Spalding Drive, Suite D Norcross, GA 30092 678-728-0100 ChamberlainsChocolate.com
Go Kart and Mini Golf Party
Malibu Norcross features attractions such as bumper boats and go karts, according to the Malibu Norcross website. Four types of parties are available at the location, including the basic Gamer party and the Ultimate party. The party type prices range from $12.99 per person to $20.99 per person, as of April 2010. Additional game play tokens and party platters cost extra.
Malibu Norcross 5400 Brook Hollow Parkway Norcross, GA 30071 770-416-7630 MalibuGrandPrix.com
Dance Party
Dancing is a popular activity among teens, so rent a party venue in Atlanta like the event room of a hotel or a dance studio. If an emerging band goes to high school with your teen and is popular among her friends, hire them for entertainment. Talk to your teen and determine if he wants a theme for his birthday party, such as a Hawaiian luau or a Hollywood celebrity party.
Paintball Party
Paintball Atlanta is open to anyone 12 and older. Party food is not available at the facility; however, party guests can enjoy a full day of paintball war for $30 a person. Parties with more than 20 guests can play a private game of paintball, according to the Paintball Atlanta website.
Paintball Atlanta 5299 Shiloh Road Alpharetta, GA 30005 770-594-0912 Paintball-Atlanta.com
Bowling Party
Gather your teenager and his friends at Midtown Bowl for a competitive bowling party. A catering menu is available at Midtown Bowl, offering popular foods such as barbecue pork plates and pizza. Make reservation for your party at least a day in advance, according to the Midtown Bowl website.
Midtown Bowl 1936 Piedmont Circle Northeast Atlanta, GA 30324 404-874-5703 MidtownBowl.com