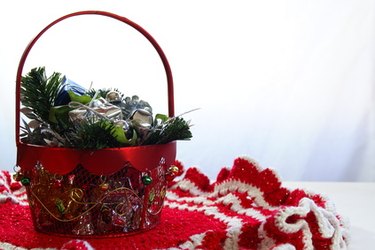 A Christmas raffle offers a fund-raising option with a festive twist. A raffle with a holiday theme works on its own or as part of a larger fundraiser for the group. Parent-teacher organizations, churches, nonprofit organizations and other groups that need to raise funds might find the Christmas raffle a profitable option.
Prizes
The prizes play a large role in the cost of the raffle tickets and the number of participants you will attract. Appealing prizes increase the chances of having a successful Christmas raffle. Choose prizes that fit the Christmas theme. A 50/50 raffle works well around the holidays because the money can go toward Christmas gifts. The winner of the raffle gets half the money raised in ticket sales while your group keeps the other half. Look for donations from local businesses that would work well as Christmas gifts. Ideas include a spa gift certificate, a weekend stay at a local bed and breakfast inn, a video game system, a wine package from a local winery or Christmas gift baskets from different businesses.
Advertisements
Without effective advertising, the raffle won't be as successful even if you have fabulous prizes. Spread the word throughout the organization and get the members involved. Provide fliers for members to pass out and hang in their neighborhoods. Post information on community bulletin boards. Take out an ad in the local newspaper. Ask local businesses to post information about the raffle. Set up a booth at a local store to sell the Christmas raffle tickets. Add a festive touch by wearing elf hats as you sell the tickets.
Other Events
Holding the Christmas raffle in conjunction with other events increases the chances of higher participation. Sell the raffle tickets in the weeks before the event with one last chance to buy a ticket at the beginning of the event. Keep the other fund-raising events Christmas-themed. A family-friendly option is to host a breakfast with Santa. The families make a donation at the door for the breakfast in addition to any raffle tickets they want to purchase. A Christmas talent show or play with a set admission earns extra fund-raising money. A gift-wrapping station at the mall leading up to the raffle is another way to get extra donations for the fundraiser.
Legal Issues
Because of the gambling nature of raffles, state and local laws govern how they are run and if they are allowed. Raffles aren't allows in all areas. Check on local and state laws to determine the restrictions on raffle fundraisers. You will likely need to apply for a permit to hold the raffle. Fully research the requirements in your area before you begin organizing the raffle. Failure to comply with the laws can result in serious actions against the group.