Things You'll Need
Tape measure

Outdoor extension cord

U-shaped nails

Hammer

Duct tape (optional)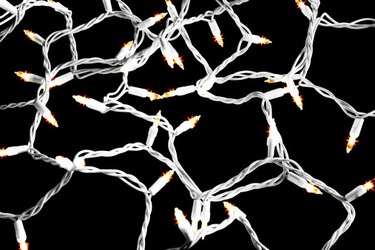 For many people, decorating the home for the holidays is an important part of their home decor. Lights brighten up the place for the season and show everyone in town that you are in the Christmas spirit. You can decorate your deck, including your deck railing, if you have an electrical outlet close by. Installing Christmas lights on your deck railing can be the final touch to set your house apart from the others.
Step 1
Measure the distance between your electrical outlet and the location where you want to start the lights for your deck railing. Purchase an outdoor approved electrical extension cord slightly longer than your measurement.
Step 2
Plug the electrical cord into the outlet, and check each string of lights you plan to use to make sure all of the bulbs light up. Once they've been checked, unplug your extension cord from the outlet and lay it out between the outlet and the location where you want to start your lights on the railing.
Step 3
Secure the extension cord to the floorboards of your deck using U nails and a hammer. Do not tap the U nail in far enough to compress the rubber on the extension score. The cord should remain loose against the nail. If you do not want to put nail holes in your wood deck or the floor of your deck is not wood, tape down the length of the cord with duct tape. Duct tape will withstand the cold of winter and prevent a tripping hazard.
Step 4
Plug the first string of lights into the extension cord and then wrap the string of lights around the deck railing in a tight spiral clockwise until you get to the end of the string of lights. Add additional strings of lights and continue the spiral clockwise pattern until you get to the end of the railing.
Step 5
Tack a U nail into the railing with your hammer approximately every 1 foot to secure the lights into place. Again, the U nail should not compress the plastic coating of the wire. If you choose not to put nail holes in your railing, you can substitute duct tape. Cut a piece of tape long enough to go around the rail, and tape the wire to the railing.
Step 6
Plug the extension cord into the electrical outlet.