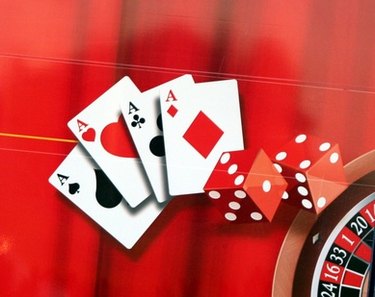 Sweet 16 parties are a time for teens to celebrate an important milestone in their lives with friends and family, so it's no wonder teens desire party themes filled with dancing, music, excitement and lots of activities. Bright lights, casino games with fake money, mock-tails and live entertainment can create a Las Vegas themed party for your child's sweet 16 birthday.
Venue
A large venue is best for hosting a Las Vegas themed sweet 16 party. There needs to be space for the mock casino games, a dance floor, a food area and areas for live entertainment. Ideal venues include hotel banquet rooms and reception halls.
Invitations
Invitations should introduce party-goers to the theme by using bright colors that are synonymous with Las Vegas nights. Images like dice, playing cards, casino chips and slot machines can be incorporated into the invitation design. The invitation should instruct guests to dress in their best casino attire, such as cocktail dresses, dress pants and dress shirts.
Decoration
Bring Las Vegas and its casino atmosphere to your teens sweet 16 party by adding life-sized playing cards, created with poster board and paint, throughout the venue. Use a personalized banner designed to mimic the "Welcome to Fabulous Las Vegas Nevada" sign to hang at the entry-way of the venue as a welcome sign for party-goers.
Vegas casinos are lit up from the bright lights of the slot machines. Dim the lights in the party venue, and use white holiday lights to give the room a bit of Vegas flare for your teens sweet 16 party.
Games and Activities
Rent casino games and tables from local party rental companies, so that guests at your teen's celebration get to experience playing games such as slot machines, roulette, poker and black jack. Give guests fake money and colorful poker chips that can be used to play the games. Enlist family and friends to work as dealers during the party. Hire magicians, jugglers and dancers to entertain guests during the sweet 16 celebration.
Food and Drink
Las Vegas is known for its plentiful, delicious buffets, so treat your teens' party guests to a buffet-style dining room where they can snack on teen favorites like pizza, french fries, cheese burgers, chicken tenders and nachos. Incorporate your teen's favorite foods as well. Have appetizers passed around by family or friends acting as servers. Create a signature fruit mock-tail for your teen's sweet 16 celebration.
Favors
Las Vegas inspired party favors can include personalized playing cards with a special message from the birthday boy or girl, custom poker chips, chocolate poker chips, miniature slot machine banks or casino-themed cookies.