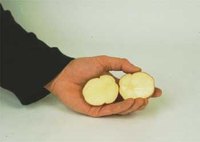 How to Remove Rust From Pots and Pans With a Potato. You don't need abrasive or dangerous products to clean up those rusty pots and pans. Just get out a potato!
Things You'll Need
Potatoes
Salt
Baking Soda
Get one medium-sized potato.
Cut the potato lengthwise for maximum coverage of the rusted area.
Dip the exposed portion of the potato into a mild abrasive such as baking soda, toothpaste or salt.
Lightly wet the rusted area.
Firmly rub the potato over the rusted area until the rust is removed.
Repeat steps if necessary.