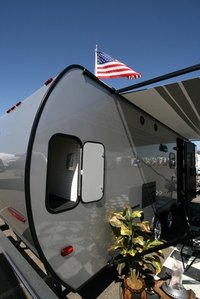 The appearance of mobile homes can be greatly enhanced with the addition of a front porch. A front porch can also add an element of safety and convenience. Building a porch for your trailer requires some tools and lumber, and a bit of patience and time.
Things You'll Need
Measuring Tape
Pencil
Level
Heavy string
Stakes
Deck screws
Screwdriver
Four pretreated 8 foot, 4x4 inch posts
Two pretreated 4 foot 2x8 inch lumber
Five pretreated 45 inch 2x8 inch lumber
Two pretreated 8 foot 2x12 inch lumber
Eighteen pretreated four foot, 2x4 inch lumber
Ten pretreated 33 inch 2x4 inch lumber
Six 8 foot, 5/4x8 foot lumber
Building the Porch
Prepare a layout for the porch by using stakes and strings. Dig four, 24-inch post holes in each corner of the marked area. Two of the four posts need to be adjacent, but not necessarily attached to the mobile home, and well within the confines of the two by eight inch floor joist.
Make use of the cement to set the posts and use a carpenter's level to plumb it. Then allow the concrete to set.
Take a measurement of the door (threshold). Stretch the heavy string from that starting point to where it reaches the two posts before returning back to the mobile home. This will give you the exact height of the porch. Place two 4x2x8 inch posts running parallel to the mobile home and secure them with four inch deck screws. Place five 2x8 inch posts perpendicular to the four foot posts that you just recently installed.
On the floor joist, install 2x4 inch boards and fasten them with deck screws. Leave a slight gap in between for the the probable event of contraction and expansion due to weather. The hand rails need to be three feet in height and four feet in length and secured to the two sides of the porch using deck screws.
The raisers need to be measured, with the ideal measurement being 11 inches. Take the measurement of the porch's height from the ground and divide this number by four to get an exact figure.
Make use of the 2x12 pretreated lumber to layout the dimensions for the stair stringers. A four foot porch (lengthwise) would ideally require three stringers.
In order to secure the strings, strip eight stair treads. The tread needs to hang at least an inch ahead of the edge as well as the stringer.
In order to attach the stringer to the porch, simply secure a length of the 2x12 with deck screws.
Attach the string to the porch with deck screws.