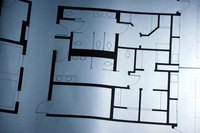 It's the dream of many people to have a home of their own. While purchasing a post-built home is a common practice, some wish to have a home that follows their own aesthetic needs. In years past, you had to employ the services of an architect to create a blueprint of your future home. Computer programs are now available that will help you draw simple house plans to illustrate your desired design.
Go to the Floorplanner.com website and create a new account. Follow through the prompts and fill in the appropriate dialogue boxes to complete the setup process. You will be given one free blueprint to make for your house plans, which you can save and print to share with your friends and family.
Start drawing the rooms onto your virtual blueprint. First, press the "Draw Room" button under the "Construction" box. Afterwords, click on a space anywhere on your blueprint, then click again elsewhere to finish your first room. Repeat this process for all the adjacent rooms.
Modify the shape of each room's walls by selecting "Draw Surface" under the "Construction" menu. Then click to modify a wall by either splitting, deleting, or changing its thickness. Move the walls around to create window shapes or curved walls.
Click on "Draw Surface" from the "Construction" box to create different surfaces for your house plans. Click on one point of the grid, then another, continuing on until you've achieved the desired surface. Curve, drag, or split the edges to fit your surfaces appropriately, as well as change its texture and color to your choosing.
Place furniture into each room by choosing from a set of categories under the "Library" box. Simply drag and drop each furniture piece into the rooms of you house plans.
Insert any miscellaneous housing objects such as hedges, fences, or single walls by clicking on the third option under the "Construction" menu. Draw a line on any space in your design, then right click on it to modify its properties such as line type and color.