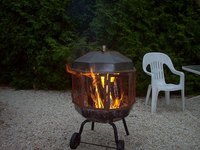 There is nothing more relaxing than sitting back and enjoying a nice fire. I like to have fires all year round. Watching the flames is also very therapeutic. If you are entertaining, your guest will enjoy the fire just as much as you.
Things You'll Need
Outdoor fire pit or fire bowl
Pieces of Wood
Tikki Oil or Lighter Fluid
First you should arrange your wood in your fire pit. We like to arrange it leaning against the wall facing where we will be sitting. You can also add a few pieces of paper made into a ball underneath the wood to help get the wood burning.

Next sprinkle the tikki fluid or lighter fluid on the wood. You should then prepare to light immediately.
Using a lighter, preferably those you hold with a handle. Bic makes a good one. Touch the wood with the lighter and prepare to get back quickly as the fire should ignite fast. Now, put on your lid and sit back and enjoy.