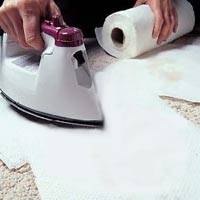 Removing wax from paint requires a steady hand and patience. There are useful techniques for getting wax off paint; each depends on the quantity of wax and how far it has spread. Controlled heat is one method of removing wax, which often gets on paint as a result of a candle tipping from a candlestick or being knocked over. Another involves careful application of a razor blade to remove blobs of wax. With a little care, the wax can be removed and you won't need to touch up the wall with fresh paint.
Things You'll Need
Razor blades
electric iron
hair dryer
brown paper
rags or paper towels
paint-safe household cleaning products
Examine the wax spill to determine the best way to get rid of it. Are there blobs of wax, one large splash, or streaks of wax running down the wall?
Remove a blob of wax by carefully scraping it off with a razor blade in a clean motion. Place the edge of the blade between the wall and the edge of the wax spill and pop it right off.
Remove a splash of wax by placing a piece of brown paper, such as a grocery or lunch bag, on the wall and hold it in place with your hand.
Apply an electric iron set on medium heat to the paper directly over the wax spill.
Move the iron in gentle circular motions.
Watch for the wax to appear on the paper.
Remove a streak of wax along the wall by aiming a hair dryer switched to the highest setting onto the spill.
Wipe away the melting wax with a rag or paper towels.
Remove any residual wax or stains from the wall with a household cleaner such as 409 spray or a concentrated cleaning solution like Mr. Clean Magic Eraser for stubborn spots.
Blot dry with clean rags or paper towels.