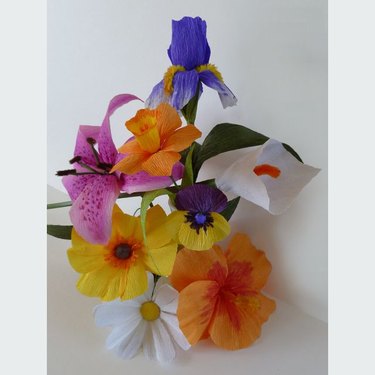 Mother's Day is coming up, and with it, the pressure to present an impossibly cute and heartfelt gift to moms everywhere. You can never go wrong with a handmade gift, but there is a fine line between cute kid craft and a blob of sparkles and glue. If you need ideas for the mom in your life, fear not! We've compiled this list of adorable and useful projects that are both kid and parent-friendly. Pair one of these with breakfast in bed and a solo pedicure, and you've got a Mother's Day she'll never forget.
Make Your Own Bouquet
Flowers are a classic Mother's Day gift, but making crepe paper flowers add a fun and creative twist. These beauties make a perfect project for older and younger children alike. Make a single flower, a bunch of one kind, or a variety for a colorful bouquet. Unlike fresh flowers, this bouquet will last all year.
Make Her Smile with a Gratitude Journal
This is a great project for the craft-shy, as it only requires some stenciling and photos to create a truly special gift. Using a gratitude journal has been proven to increase overall happiness, so imagine her smile when she sees pictures of her kids scattered throughout.
Personalize a Water Carafe in This Simple DIY
Perfect for a woman who loves to entertain, this elegant craft will last forever. This project requires minimal supervision, especially for older children. All you need is a water carafe, some mason jars, a stencil and some glass paint. You can even use it to serve her orange juice on Mother's Day morning!
Create a Bouquet of the Happiest Flower
Sunflowers are a widely adored flower for its essence of summer and happiness, and their size makes a bouquet especially striking. Though this one does require a good amount of adult supervision, the end result is certainly worth the extra effort. Mom will be shocked and touched that her gorgeous bouquet is handcrafted!
Keep Her Hands Dry with Customized Towels
Kitchen towels have a way of getting grimy fast, making this gift both adorable and useful. Use the quotes provided or buy iron-ons at a craft store to make your own personalized message. A "Thanks, Mom!" can go a long way.
Go Ceramic with a Hand-Crafted Jewelry Holder
This is a perfect tag-team craft for older and younger children: the clay will keep younger kids occupied while the older kids shape the owls. These little trinket trays are perfect for any number of things and work in any room of the house. You could even make several different sizes to represent each child.
Sew a Mason Jar Pin Cushion to Keep Her Kit Organized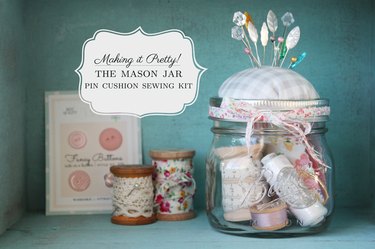 If Mom is into sewing, this thoughtful gift will be right up her alley! With some crafty supplies and basic sewing skills, you can make an adorable sewing kit that's both economical and convenient. Personalize it to Mom's style with fabric, paper, color, or extra little treats that you know she'll love.
Give the Gift of Healthy Skin with Homemade Lotion Bars
This twist on the typical lotion or body spray gift is sure to be a hit. The tiny lotions can be customized with a mold to a shape she'll love, and they're the perfect size to throw in a purse or use for travel. Make a big batch to last for months!
Please a Jewelry Lover with Upcycled Bracelets
For all you thrifters out there, you know how many belts you can find at thrift stores! Start looking for thin belts in fun colors and make Mom some sassy bracelets she can wear alone or mix and match. All it requires is scissors, a sewing machine and 15 minutes, and you'll have a gift she'll love.
Help Her Exfoliate with a Chemical-Free Sugar Scrub
The perfect partner to the homemade lotion bars listed above, this simple sugar scrub will leave skin soft and refreshed after long months in hibernation. You need only four ingredients and a jar, with cute labeling optional. You can customize the scent with different oils, like lavender, mint or lemon, so Mom gets her favorite.
Light Up Her World with a Custom Candle Holder
Candles are possibly the most classic "mom gift" of all time, so why not give her a homey accessory she can treasure for years? This one is perfect for younger children, who could even skip the hole punching in favor of simply ripping up tissue paper and gluing it on the glass. Mod Podge dries clear, so the little ones can apply layer after layer to their hearts' content.
Catch Her Eye with a Suncatcher
This handmade and sincere gift would be beautiful in a window or framed and displayed on a desk or wall. The craft itself is great for kids ages 6 to 10, but older kids could help create the stencils and younger kids could help with the glue. You might already have the supplies in your house.
Make Mom Personalized Jewelry
Want to find the perfect gift for mom on a budget? Make a fingerprint necklace! The personalized element of this piece makes this gift unlike any other. Here are two ways to turn a fingerprint into a wearable work of art.