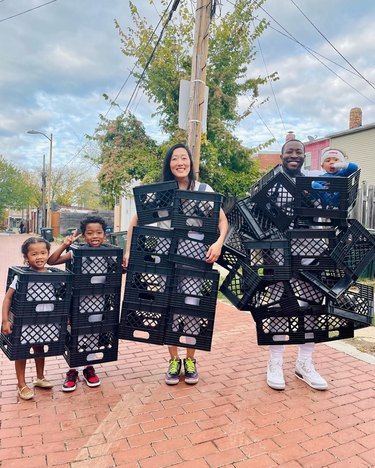 Carrol Chang can still remember one of the first Halloween costumes that captured her attention as a kid. It was in elementary school. A classmate showed up to class dressed in a black outfit with a yellow felt line down the center. "She was a street—I think she thought it was underwhelming, but I told her it was hilarious!" Carrol recalls. "Maybe that was the moment I fell in love with DIY costumes. I'm still thinking about it more than 30 years later!"
It's no wonder then that Carrol, now a mom of three and a senior director at Uber, has become known for her homemade Halloween costumes on social media, from her epic CVS receipt costume in 2018 to 2020's inspiring Grand-Slam-themed family costume (with Carrol's daughter as tennis champ Naomi Osaka, her son as a U.S. Open trophy and her newborn daughter as a tennis ball!). "Creating with my hands has brought me joy my whole life," says Carrol, who shares creative ideas @carrolchang on Instagram.
And DIYing Halloween costumes is its own special kind of joy. "I get lost in color and texture. I obsess over how to secure a strap. I delight in adding details that will make someone laugh. I'll be sitting on my rug at 2 a.m., covered in glue chuckling to myself."
In fact, she contemplates costumes months in advance. "I think about Halloween all year! I'm always on the lookout for ideas, like big cultural moments, memes, art, social media and entertainment," she says.
For good reason. Carrol relishes the meditative nature—and chaos—of crafting and DIY. "The entire process is therapeutic, energizing and joyful for me," she says. "As a wife and mom, I don't often get the chance to dive into something, get messy and lose track of time. Making Halloween costumes each year is my time to do that."
With that in mind, we asked Carrol to share her best tips—and, of course, tricks!—for making Halloween a DIY success.
You might look at Carrol's amazing costumes and think, "Ohhh, I'm not that kind of DIYer!" But, as Carrol is quick to point out, "You are more creative than you think."
First things first: Turn to what you have in your home. Humble cereal boxes can become oh so much more when you put your mind to it. "Cardboard boxes, tubes from paper towels and toilet paper—these are all great household items to use," Carrol says.
Carrol Chang's DIY Halloween Costume Ideas
Stumped on a Halloween group costume for a family of two, three, four or more? Here are 10 of Carrol's favorite DIY costume ideas for the whole family:
‌1. Olympic medal ceremony:‌ Athletes, judges and fans
‌2. Family circus: ‌Lion and tamer, clown, fortune teller, popcorn vendor, strong man
‌3. Weekend brunch: ‌Eggs, bacon, waffles, pastries, coffee cup and a glass of OJ
‌4. Beach day:‌ Lifeguard, beachgoers, crab, seashell and sandcastle
‌5. The four seasons: ‌Spring, summer, fall and winter
‌6. Seafood dinner: ‌Chefs with a baby lobster in a pot
‌7. Hot dog vendor: ‌Kids as hot dogs, parents as ketchup and mustard, or a hot dog vendor with a baby hot dog!
‌8. Legal system: ‌Lawyers (in suits) and a baby judge
‌9. Pop culture moment: ‌Family of Care Bears
‌10. Nursery rhyme:‌ Duck, duck, goose!
2. Think of recycling first
The last thing you want on the day after Halloween is to look at your family's costumes and think, "OK, now what?" Chances are you're not going to wear the same Halloween costume next year.
That's why Carrol considers the aftermath of a costume way before November 1. After all, who doesn't want a more eco-friendly, sustainable Halloween? "When choosing materials for a costume, try to think about your disassembly and disposal plan," Carrol advises. "If you search your local recycling rules, you'll find that many items you didn't think are recyclable actually are."
3. Don't underestimate the power of your closet
Clothing is what inspired Carrol's amazing Marie-Kondo-themed family Halloween costume back in 2019 (with her son as the necessary spark of joy!). And the closet is what continues to be an endless source of inspiration for Carrol.
"Try to use clothing you already have, but if you need to buy something new, get something you can wear after Halloween," Carrol says. Need a cape for a super hero costume? Pick one that'll double as a wrap for you or a couch blanket for the kids come November.
And avoid making changes to clothing that'll be permanent. "If you need to affix anything to clothing, use temporary fabric tape instead of glue," Carrol suggests.
4. Have the right tools on hand
You don't have to spend a lot of money to make a great DIY Halloween costume. And rest assured, you don't even have to know how to sew, as Carrol can attest to: "I never learned to use a sewing machine, so I do most of my costumes with a glue gun. It gets the job done!"
There are, however, a few key items that Carrol says are worth investing in since you'll likely use them again and again. These include a glue gun, durable scissors, a precision knife (for cutting cardboard or foam) and a hand saw. "I went many years before biting the bullet on my first Dremel hand saw—worth it!" Carrol says.
When in doubt, use felt and craft foam. "They're pliable, easy to cut, easy to glue and they easily hide wrinkles or mistakes," says Carrol.
Carrol Chang's Halloween DIY Must-Haves
Keep these supplies on hand for Halloween costumes and general crafting:
Hot glue
Fabric tape
Craft foam
Poster board in a variety of colors
Felt in a variety of colors
Scissors
Precision knife
Hand saw
5. Make planning your friend
As with so many things in life, organization is key. "I have a notes file on my phone where I keep a running list of Halloween costume ideas," Carrol says. "Some ideas I'm saving for when my kids are all a little taller—hopefully at that point, they won't be rolling their eyes at me, refusing to participate!"
Then, when it's time to pick an idea, Carrol grabs pen and paper to bring it to life. Even if you're not an artist, doodling can do you a lot of favors when it comes to making your own Halloween costumes. It's all about the process.
"Start with a sketch and then visualize and eventually write down each step," Carrol says. "This will help you get the sequencing right. I can't tell you how many times this helped me realize the right time to do something without compromising the rest of the costume!"
You don't have to DIY ‌everything‌. If the thought of a totally homemade costume gives you nightmares, consider semihomemade Halloween costumes. "You can mix and match things you've bought and things you made," Carrol says. "For example, for a bumblebee, maybe you make the body but you buy an antenna headband. For a wizard, you can buy a cloak and decorate it rather than building the cloak from scratch."
And most importantly, have a good time. Carrol's motto is: "Don't put pressure on yourself. It's supposed to be fun!" After all, crafting is about getting in touch with your childlike sense of wonder and creativity.
"Having worked with children most of my life and now having three kids of my own, I see how unencumbered our creativity is when we are young and how we tend to lose that over time," Carrol says. "Children derive unadulterated satisfaction from the process of creative expression. Getting back to that place is soulful and restorative for me."
So, grab your sketch book, search through the cupboards for unlikely inspiration (hello, paper towel roll!) and have some fun!