Things You'll Need
Black dress pants

Blue long-sleeved polo shirt

Black cummerbund

Black socks

Black dress shoes

Rebel blaster

Blue, heavy-cotton fabric

Gold, heavy-cotton fabric

Straight pins

Sewing machine

30-inch black ribbon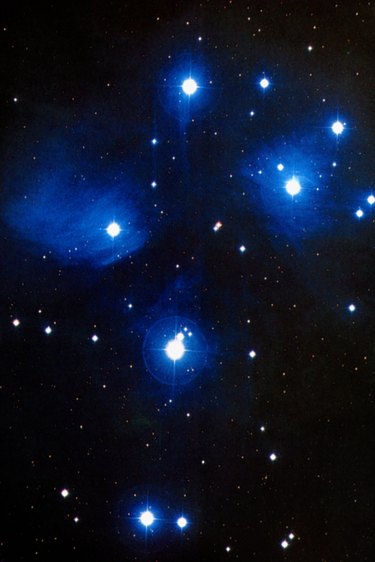 In the "Star Wars" universe, there are few men as suave and debonair as Lando Calrissian. He began his days as a smuggler in league with Han Solo, but they eventually parted ways. In "Star Wars: The Empire Strikes Back," Billy Dee Williams introduced Lando to the world. If you want to recreate a Lando Calrissian costume, you need little more than clothing you can find at a thrift store and some fabric from a craft store.
The Costume
Step 1
Find and wear a pair of black, dress pants. Roll the cuffs.
Step 2
Find and wear a light-blue, long-sleeved polo shirt, tucked into the pants. Leave the buttons undone. In the movie, Lando's shirt collar and sleeve cuffs are black. Since finding a shirt that matches exactly would be difficult, use a solid blue shirt. If desired, paint the collar and cuffs using black fabric paint. Let the paint dry overnight before proceeding.
Step 3
Find and wear a black cummerbund around your waist.
Step 4
Find and wear a pair of black socks and black dress shoes.
Step 5
Find and carry a replica of a rebel blaster, one of the guns from the movie.
The Cape
Step 1
Cut a 4-foot-diameter half-circle from a piece of blue, heavy-cotton fabric that matches the color of the shirt. Fold the edges of the fabric over 1/4 inch and pin down with straight pins. Sew the folded edges using a straight stitch on a sewing machine. Remove the straight pins. Repeat the process with a piece of gold, heavy-cotton fabric.
Step 2
Place the two half-circles on top of one another. On the straight edge of the circles, locate the center. Pin the six inches on either side of the center point using straight pins. Sew along the pins to secure it. Remove the pins.
Step 3
Attach a 30-inch piece of black ribbon to the straight edge of the half-circles. Center it on the 12-inch sewn strip and pin it in place, leaving the last nine inches of ribbon loose on either side. Sew along the pinned ribbon and remove the pins. Use the ribbon to tie the cape around your neck.
Tip
If desired, wear a fake mustache like Lando's to complete the look.