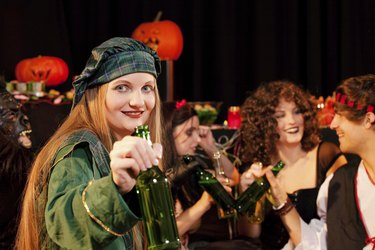 For adults, Halloween has become one of the ultimate party nights of the year. For nightclub owners and promoters, Halloween can be really good business. In order to get more customers in the door on Halloween night, it is a good idea to not only plan a big party, but to tie that party in with several promotional offers that offer patrons the incentive to make your club their top choice for this annual celebration.
Heaven and Hell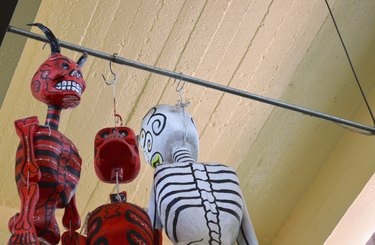 A "Heaven and Hell" themed party is the ultimate Halloween-geared event. This is especially ideal for clubs that feature separate sections to their interior. For example, if you have a two-story establishment, you could place the "Heaven" party upstairs and the "Hell" party downstairs. Get customers in the door by offering Halloween-themed gifts to randomly selected winners or to customers who purchased drink tokens. Separate your gifts into "Heaven"-themed or "Hell"-themed. For instance, you can have etched pint glasses, glow sticks, shot glasses, decorative beads, T-shirts or even just drink tokens. These gifts could be specific to the section of the party that they are partaking in. For example, "Hell" could have a drinking contest. The winning patron could get a devil or fire-themed prize. In "Heaven" there could be a "Beer Pong" table. The winner of this prize could receive angel or cloud-themed gifts.
Costume Contest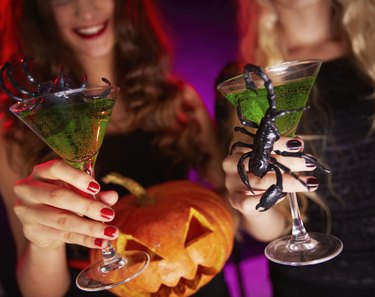 Many people like to dress up for Halloween so much so that they invest a lot of time and money into creating the perfect ensemble. Reward this holiday spirit by offering a free bar tab to the best costume of the night. Specify that the free bar tab is for a set amount and only usable at a future date, not applicable to Halloween night. Dedicated Halloween enthusiasts will work their hardest on a costume so that they can stand out at your club and have fun, but they will stay for the opportunity to win the bar tab prize. This promotion is especially rewarding as it will help get your winning customer in the door a second night to potentially spend more money. This is also great branding, as your customer will feel singled out as a valued patron.
Treasure Hunt/Haunted House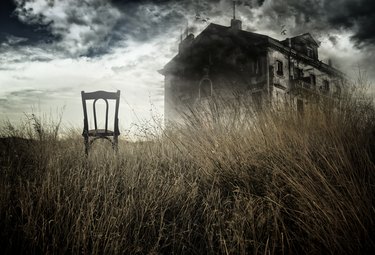 Hide tokens or coupons for Halloween-themed promotional gifts in areas throughout the club. For example, they could be taped under bar stools, behind Halloween decorations or even with drink orders. To keep the celebration on theme for Halloween, decorate your club like a haunted house, complete with fog makers and dark lights. This will make the "treasure" more difficult to find but will keep your customers inside looking.