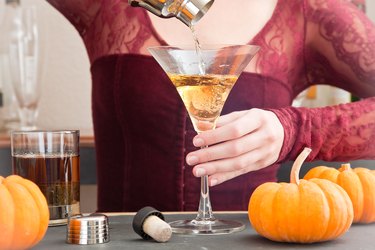 It's hardly ever fun to work on a holiday -- but Halloween might be an exception. Bring in the crowds, and the tips, by dressing up and having a good time.
Go Back In Time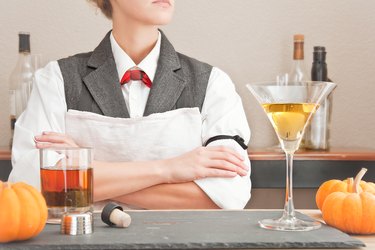 Things You'll Need
White dress shirt

Black ribbon or black garter

Long white apron

Vest

Bow tie

Stick-on handlebar mustache
Dress as an old-timey bartender from the Wild West. Roll up your sleeves and tie them in place with a black ribbon or garter, tie a long white apron around your waist and put on a vest and a bow-tie. Stick on a handlebar mustache and serve up some firewater.
The Green Fairy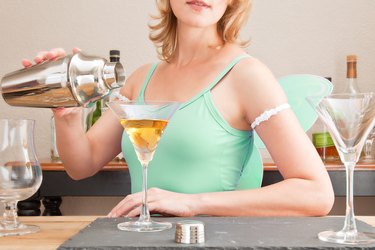 Things You'll Need
Green leotard

Green tights

Green tutu

Wings (Green if possible)

Body glitter
Pull on a green leotard, green tights and a green tutu. Add some wings and glitter and offer up shots of legal absinthe.
For the Group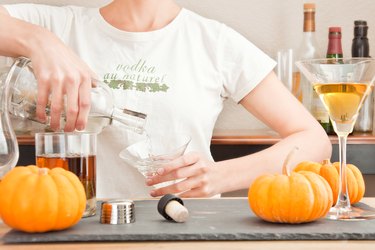 Things You'll Need
White T-shirts

Fabric pens
If there are several bartenders working together, consider a group theme. Dress as different flavors of vodka by drawing the logo and flavor onto a T-shirt with fabric pens. Each of you could offer shots of your own flavor.
Bottle It Up
Dress as your favorite bottle of booze by attaching elastic straps to a painted cardboard box. Print up and paste on an enlarged image of the label if you don't want to paint it on. Make a cardboard bottle cap or cork to finish of the costume and serve shots of the real thing.
Mad Scientist
Things You'll Need
White lab coat or white dress shirt

Safety goggles

Breakers

Hair gel
If you consider yourself a mixologist, don a white lab coat or just an old white dress shirt with the cuffs cut off. Add some safety goggles, and tease up your hair and hold it in place with gel. Fill up some breakers with your latest concoctions.
Tip
Each of these costumes can be taken to the next level by adding more detail. Makeup, silkscreen images instead of painted ones and taking your time as you put together your outfit can make your Halloween fun and profitable.