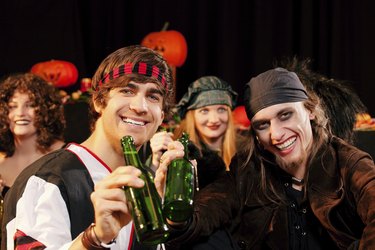 While kids get most of the attention on Halloween, the holiday can also be a fun night out for adults. Halloween is a good reason to meet up with friends or even a costumed excuse to show a little skin in late October. Every year, the holiday draws many adults out on the town. For bars, the night is a good way to increase visibility and sales. With a bit of planning and some simple tricks, a bar can turn create a big, profitable and fun bar Halloween party.
Drinks are, of course, what draw most patrons to bars. Although holidays and events are usually big nights anyway, a few tricks can help you serve thematic and fun big-sellers. Try adding grenadine to clear drinks for a sweet taste and a deep red color sure to satisfy vampires and zombies. Black raspberry liqueur can also add a thematic black color to drinks, while a peeled radish with a cut olive in the center -- held together with a toothpick -- can look like an eyeball floating in a martini glass.
For bar snacks, candy corn and sweet treats will not only satisfy adult trick-or-treaters, but keep your patrons just as thirsty as the standard salty fare. For a salty idea, add a bit of red food coloring and hot sauce to popcorn and offer it to guests as "roasted brains" -- you'll quickly become known as the best bar for Halloween!
Bar Halloween Costume Ideas
Costumes are a Halloween classic and a vital part of any bar Halloween party. Start by having the staff dress up in costumes. Good holiday attire will not only add to your bar's ambiance, but might also increase tips. To encourage patrons to dress up, consider promotions like free drinks for the best costumes in different categories or discounts for costumed patrons. If kids have to dress up for their treats, there's no reason adults shouldn't have to do the same.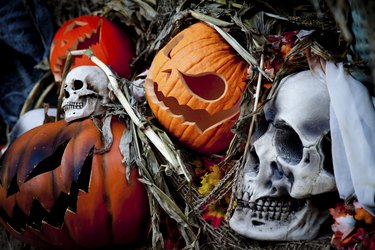 You don't have to turn your bar into a haunted house, but a bit of decoration will go a long way. Dim the lights a bit and consider adding a few seasonal extras, such as jack-o'-lanterns, decorative tombstones or at least a few witch hats on the coat rack. Alternatively, consider renting a fog machine or placing dry ice in the corners of your bar. You can even place small amounts of dry ice in drinks to keep them extra cool and create a smoky haze around all of your bar creations.
Holiday music can get a bit old if it's playing all night, but you may want to mix a few screams or cackles into your playlist or DJ set to keep the night in character. Classics with a spooky twist like Michael Jackson's "Thriller" will keep your patrons in the mood without making the night seem gimmicky.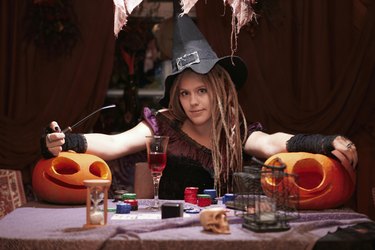 No holiday party would be complete without a few games to keep your guests entertained and mingling. If you have multiple bars or can create different stations, consider serving different food and drinks at each to create a "Liq-or-treat" circuit for your guests.
If you have the room, you could even hold a Monster Mash dance contest to get things moving or consider a twist on the classic children's Mummy Wrap. Contestants compete in pairs -- a party-starter in itself -- and try wrap each other completely in toilet paper before any other pair. The ensuing spinning or running in circles is sure to get the party started. You can always offer drinks as prizes to keep costs low and keep the party going.