Things You'll Need
Pumpkin

Fabric with team colors

Scissors

Pins

Acrylic paint

Small paint brushes

Small plastic pompoms

Team color ribbon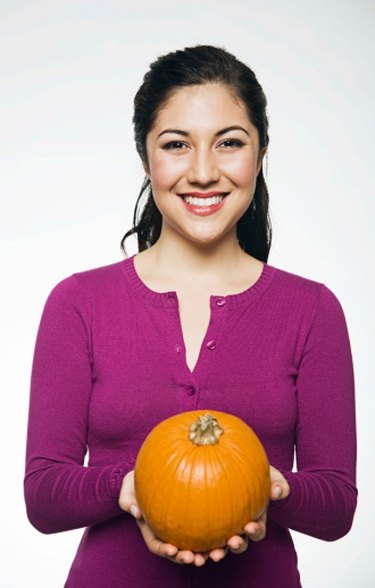 Pumpkins are a common Halloween and harvest decoration, so why not combine the seasonal staples with some spirit to support your favorite sports team? You can decorate a pumpkin like a cheerleader to wear the colors and logos of the local, state or national team you support. Just add a skirt and pompoms to a peppy-faced pumpkin, and you have a spirited decoration in your home or classroom all season. This is an activity that children can participate in as well.
Step 1
Pick out a pumpkin to suit the desired shape and size of your pumpkin cheerleader. Pick a pumpkin that is a little taller than it is wide so you will be able to fit a face above the cheerleading skirt you construct on the pumpkin.
Step 2
Cut a piece of fabric that will go around the bottom half of the pumpkin to make the cheerleading skirt. The fabric can be a solid color, or a combination of colors, but it should be the colors that represent the team that the cheerleader symbol is meant to support.
Step 3
Cut slits into the bottom half of the fabric skirt, each about half an inch apart from one another, to form pleats in the cheerleading skirt. Wrap the skirt around the bottom half of the pumpkin and secure it by sticking a safety pin through the skirt where it connects at the back of the pumpkin and push it through the pumpkin's outer rind.
Step 4
Paint a face on the pumpkin cheerleader using small paint brushes and acrylic paint. Think about feminine and spirited features, such as big full lips or bright eyes with long eyelashes. You can also paint team logos on the pumpkin or add team spirit stickers.
Step 5
Attach a small plastic pompom to each side of the pumpkin where the skirt meets the orange gourd. Secure the pompoms in place by sticking pins through them and through the pumpkin.
Step 6
Tie a team-themed ribbon around the top stem of the pumpkin so it resembles a high-pony tail on the hair of a cheerleader.