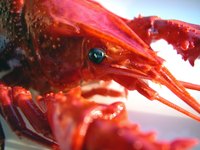 From soulfully directing songs underwater to avoiding a chef's pot, the exploits of Sebastian the crustacean have become ingrained in North American culture as a favorite Disney character. Samuel E. Wright provided the voice for the intrepid red crustacean, popularized through the 1989 movie "The Little Mermaid." Creating a costume representing Sebastian is simple and easily recognizable.
Things You'll Need
Red plain hoodie
3 pairs plain red pajama pants or sweat pants
Sewing machine
Red thread
Red socks
Red shoes
Additional red hoodie or shirt
Red mittens
Purchase or use clothing items such as a hoodie, sweat pants or pajama pants in a uniform shade of red for the costume. Before you begin, group them together to ensure they all match.
Sew the ankles of two pairs of red sweat pants closed using a sewing machine outfitted with red thread. Crumple up newspaper, and fill the legs of both pairs to ensure they are completely full and slightly stiff.
Place the hoodie out on your work surface, with the front facing upward, and the arms outstretched. Arrange one pair of pants so the legs are parallel to the bottom at about chest level. Sew them onto the front of the hoodie.
Sew the second pair of pants onto the bottom of the hoodie. These pants will serve as Sebastian's other legs besides those created by the wearer's arms and legs.
Wear the pants with red socks and shoes. Insert the hoodie over your head, and fill the back with a crumpled red shirt or another hoodie to make it round, like Sebastian's shell. Place the hood over your head, and insert your hands into red mittens to complete the look.