Transform a standard black dress by altering the color to a more complimentary tone. The two-step process of removing the black and dyeing the fabric a different color may take some time, but it can be done. If the black dye is not removed then the dress will not reflect the new hue. Once the dress is complete, wear your new-to-you style out on the town.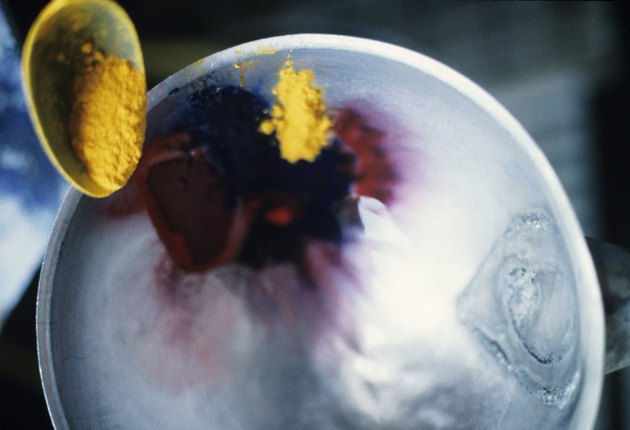 Things You'll Need
2 tubs

Bleach

Water

Vinegar

Fabric Dye

Stove pot

Water thermometer

Thongs
Remove the Color
Step 1
Soak the dress in a tub of cold water until it is saturated completely. Dump the water and ring the dress out.
Step 2
Add equal parts bleach and water to the tub. Completely submerge the dress into the bleach water mixture and leave for one hour. The bleach will remove the black color. Do not remove the dress until the color is removed or faded drastically.
Step 3
Fill another tub with a vinegar solution of two parts water to one part vinegar. The vinegar solution will stop the bleaching agents. The dress will need to be immersed in the mixture. When ready, remove the dress from the bleach water, ring out excess water and transfer directly into the water and vinegar solution. Leave for 30 minutes.
Step 4
Remove the dress from the vinegar solution and transfer directly into a washing machine. Set the machine to cold water. There is no need to add detergent. Do not add additional clothing. When complete, remove from the washer and set aside. Do not dry.
Dye the Dress
Step 1
Mix the fabric dye in a large stove pot, according to the manufacturer's directions.
Step 2
Turn the heat to simmer and add the wet dress. Allow the water to simmer until it reaches a 120 degrees Fahrenheit. At this point, set the simmer time for the time allotted by the manufacturer.
Step 3
Remove the dress with thongs and rinse with cold water. If the dress is too dark, use hot water to help fade the color. If the dress is too light, you will need to repeat the dyeing process. There is no need to bleach the dress again.
Step 4
Wash the dress in the washing machine with detergent and hang dry.
Tip
Dresses that are made of 100 percent polyester may not react to the bleach. Consult a professional tailor to dye the dress. Wash the washing machine with bleach prior to washing another load of laundry to prevent unwanted dyeing. Wear gloves and old clothing to prevent staining.