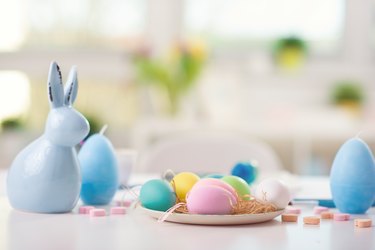 Don't let springtime's most festive holiday pass by without jazzing up your house with Easter decorations. Fresh out of Easter decoration ideas? Don't worry—we have you covered.
We shopped for the best and brightest pieces of Easter decor that'll add a festive feel to your home this spring, all without putting too big of a dent in your budget. After all, you have more important things to do, like finding your grandma's Easter ham recipe (it has to be around here somewhere…) and indulging in a few Peeps.
What to Consider When Purchasing Easter Decorations
‌Price:‌ Easter comes and goes fast. Considering these decorations will only be on display for a limited time, you'll likely want to reign it in when it comes to the price point. You may consider spending a few more dollars for handmade or one-of-a-kind pieces that you can display year after year though. Below, we gathered Easter decorations that cost under $50, with most ringing in far before that.
‌Durability:‌ Will your Easter festivities include little ones? How about curious pets with excitable tails? If you answered yes to either of those, you might want to choose Easter decorations that are made from more durable materials, just in case a sticky-fingered toddler decides to play with them. (In the eyes of children, many Easter decorations look like toys, so they'll be tempting.) Easter decorations can be made from a variety of materials, from delicate paper garlands to plastic centerpieces to wire baskets. Whichever you choose, consider its durability, both in case of "oopsies!" accidents and for the ability to display them for many Easters to come.
‌Style:‌ Easter decorations come in a variety of styles, from fun and playful to classic and elegant. Instead of mixing and matching, achieve a cohesive look by sticking to one style. Do you prefer bright and colorful or sweet and subdued? Before you click "add to cart" consider how (or if) your decorations will complement each other.
Now hop to it! Scroll on for our favorite bright and cheery Easter decorations.
1. Ashland Tulips and Easter Eggs in Basket Arrangement
Stop scrounging through your tired Easter decorations wondering what could be the centerpiece this year. Instead, nab this basket of artificial tulips and speckled eggs from Michaels. It'd immediately brighten up your tablescape, aiding in making a memorable Easter brunch or dinner, or could add a sense of seasonal cheer to any bookshelf or console table too. No need to decide now. It's lightweight, so you can move it from spot to spot—from your entryway console to your living room coffee table and beyond—until Easter comes and goes.
2. Sur La Table Jardin Table Runner
Ditch the traditional tablecloth. Instead, cheer up your Easter brunch tabletop with this fun floral runner. A variety of colorful, watercolor-like florals pop against the white background, so even if your table settings are subdued and your cinnamon rolls are burnt, your table will still be a standout. No need to store this runner away after the Easter bunny hops away either; you can brighten each of your dining experiences, both indoors and out, with this table runner all spring and even summer long. If a clumsy kiddo (or maybe you're the clumsy one … ) spills a drop of maple syrup on it, no worries—this durable cotton runner is machine-washable, so it's a breeze to clean.
An Easter garland is an easy and inexpensive way to instantly add seasonal charm to your home. It doesn't get cuter or more versatile than this soft felt banner in pretty pastel colors. This banner, which measures 85 inches long, could be hung in a number of places, including across a fireplace mantel, on the wall of your entryway, or above a console table full of Easter treats in your dining room—and that's just for starters. To create a sense of cheer for your entire neighborhood, hang this banner in a window. (Small suction cups with hooks can hold it in place.) Another idea: If you're hosting an Easter gathering, consider this banner as a pretty backdrop for a photo wall, to snap pics of your loved ones to remember this holiday for, well, ever. Happy Easter, indeed!
4. Easter LED Egg String Lights
Your Easter holiday decor wouldn't be complete without this set of adorable and affordable string lights. No matter where you hang them, these colorful eggs would add a playful, festive touch to your decorations. Not sure what to do with these cuties? If you have a fireplace mantel, string them across the front just as you would a holiday garland—all the better if you pair them with a mantel full of Easter-themed decor, like pastel-colored candles, a bouquet of tulips and a bunny figurine or two. You could also string these in front of a window to extend the festive feel to your neighbors or place them along your dining table to add sparkle to your Easter meal.
5. Spring Tulip Candle by Yui Kobayashi
Spring has sprung, and those tulip bulbs you planted last fall will break through the ground soon. Until then, add these garden-scented tulip candles to your home decor—no candle holders necessary. They'll bring an undeniable freshness to your spring decor. The chunky designs, which are handmade in Brooklyn, are functional, but personally, we couldn't bear to light them. They come in three color combinations, though if you add one of each to your cart, we wouldn't blame you.
6. Meri Meri Honeycomb Easter Bunny Garland
If you're hosting an Easter celebration, this cute-as-can-be egg garland is a must as a party decoration. String it in front of a dessert table or hang it as a photo backdrop. If you're not hosting an Easter celebration, it's still a must, since it can act as eye-catching wall decor that everyone, no matter their age, would love. For those with kiddos at home, win major fun parent points by hanging this in a kid's room. (As if they aren't excited enough about Easter … )
7. VGIA 12-in. Artificial Easter Wreath
When celebrating this Easter season, don't forget a major decorating opportunity: Your front door. Door decor welcomes both you and your guests, as well as cheers up the entire neighborhood. Grab this pastel-colored Easter egg wreath, which truly couldn't be cuter, for an affordable option that can be displayed every Easter, whether on your door, in your entryway, above a mantel or as a centerpiece. If you opt to showcase it outside, pair this with an Easter-themed doormat, then consider your outdoor decor done.
8. Geometry Bunny Rabbit Races Tea Towel
Kitchens often get left out of the fun of Easter home decor, but not anymore! This bunny-themed tea towel from Geometry would brighten any oven handle—and anyone's mood. You may want to scroll through all of Geometry's spring-themed towels, which include an array of floral designs, for a full refresh. (Chances are it's time for your seen-better-days towels to retire anyways.) Here's betting drying the dishes from Easter brunch won't be such a drag when you have this tea towel in your hand. Who knew bunny decorations could be so practical?
9. RitaCraftshop Easter Eggs Stems, 5-Count
As Easter enthusiasts know, you can never have too many egg decorations. Like these pretty egg stems, for instance. They check all the decor must-have boxes: color, texture, a hint of nature and plenty of charm. Simply place them in a vase and voila! Your effortless Easter centerpiece is complete.
10. Mini Scalloped Iron Easter Basket
Kids shouldn't get to have ‌all‌ the fun with Easter baskets. This iron scalloped-edge one is purely for adults and would make for delightful tabletop decor. These baskets come in three sizes and four pastel colors, so you could mix and match a few, or create a simple scene with one. Instead of asking for a cavity by filling this basket with sweet treats, you could fill this one with moss, speckled eggs, faux flowers, gnomes and bunny figurines.