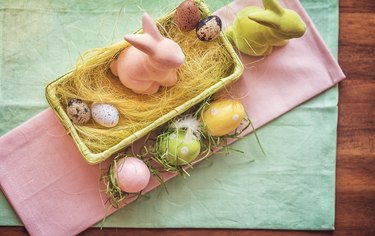 Bunnies and chicks and flowers, oh my! Easter season is here, and with it comes a slew of sweet options for seasonal decorations. The most cherished decor item, perhaps, being decorative Easter eggs—a tradition that has been beloved for centuries, especially for children.
If you'd rather not dye your own Easter eggs though, don't! There are plenty of beautiful decorative eggs you can buy instead. Many of them are handmade, many of them last for years and all would be a beautiful addition to your holiday display—no crafting session and food dye stains required. To save you from endless online shopping, we narrowed down the best decorative Easter eggs that we'd add to our cart in an instant, and think you should too since they'll bring undeniable joy to your home this holiday season.
What To Consider When Purchasing Decorative Easter Eggs
‌Material:‌ Decorative Easter eggs can be made from a variety of materials, from plastic and wood to glass and ceramic. Which you choose should depend on which look you like and your lifestyle. Do you have rambunctious kids in your house? How about curious, get-their-nose-into-everything pets? If so, you may want to choose a more durable material, like plastic, which can withstand an accidental knocking to the floor. If you're aiming for more sustainable holiday decorations, consider wooden Easter eggs.
‌Style:‌ Decorative Easter eggs come in a wide range of styles, from ornate and colorful Ukrainian pysanky eggs to elegant and understated designs. Consider which complements your existing home decor as well as your other Easter decorations. Brightly colored eggs may stick out (too much) when paired with soft, pastel decorations, while neutral-hued eggs may get lost when juxtaposed with flashy holiday decor.
‌Purpose:‌ Most likely, your decorated eggs can take on one main duty: Looking pretty in a bowl or basket. They could also hang from an Easter tree, be gifted to either adults or kids, or be displayed outside. If you intend for them to hold treats, they'll—of course!—need to open. Before clicking "add to cart," consider how and where you want to display these decorative eggs.
Scroll on for some of the best decorative Easter eggs that'll cheer up your holiday display. Happy Easter!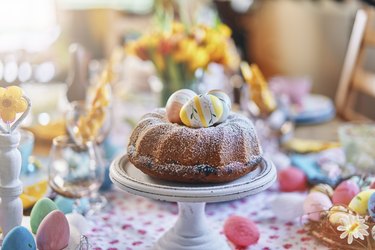 1. NarodniyDimUkraina Wooden Ukrainian Pysanky Easter Eggs, 6-Count
You'd be hard-pressed to find Easter eggs more awe-worthy than pysanky eggs, a cherished ancient Ukrainian tradition. This set of six hand-painted wooden eggs, which are made in Ukraine, are intricately designed with an array of vibrant colors. Together they are worthy of a front-and-center spot on your Easter table. Best of all, since this set of one-of-a-kind eggs is wooden, they'll never rot, so you can display them as part of your spring home decor year after year. (Psst! Pysanky painted eggs also make for a beautiful gift for all the Easter lovers in your life.)
2. theNestatWindyCorner Hand-Carved Victorian Lace Chicken Egg, 1-Count
Have you ever seen a more delightfully delicate egg design? We haven't either. These beauties, with patterns reminiscent of Victorian lace, are hand-carved by an Etsy seller, making each its own tiny piece of art. Choose between a variety of neutral or pastel shades. Don't wait to add these to your cart though; because they are made to order, be sure to allow around two weeks for the eggs to arrive. Also, since they're precious—made out of real chicken egg shells treated with a sealant—these aren't kiddo (or Easter egg hunt) friendly. Instead, display them in a bowl or basket somewhere the whole family can admire them.
3. DyJoDesigns Artificial Speckled Dyed Easter Eggs, 12-Count
If the thought of preparing hard-boiled eggs and breaking out the food coloring to make your own dyed eggs doesn't delight you, let someone else do the hard DIY craft work. Like this Etsy seller. This set features a dozen speckled plastic eggs available in blue, pink or natural colors, or a combination. Each is hand-dyed and hand-speckled, so you get the joy of arranging them on your mantel or tying them to a wreath—no craft paint, paintbrush or Easter egg dye necessary—and then using them for many Easters to come.
4. RedBarnToys Hollow Wooden Easter Eggs, 6-Count
Any little one would be over the moon to find these colorful wooden eggs in his or her Easter basket, especially if they're packed with treats. They're hollow, perfect for sneaking little goodies inside, and smooth, so there's no need to worry about slivers. Each is hand-painted with nontoxic paint as well as a light coating of beeswax polish, and every order comes with a set of six eggs in a pastel rainbow of colors—pink, purple, blue, orange, yellow and green—as well as an egg carton for easy storage. They're on the pricier side, but if you're trying to avoid plastic Easter eggs, they're worth the investment to create a more sustainable holiday.
5. thejunebride Silk Dyed Easter Egg Kit
If you enjoy Easter egg decorating, but don't love the mess that comes with it, celebrate springtime with this egg-dying kit—no stained fingers or cleanup necessary. This ready-to-use (and ready-to-gift!) kit includes a dozen different silk scraps of various hues and patterns, like florals and polka dots, as well as a dozen squares of white cloth, a dozen twist ties and instructions for how to make these colorful eggs. All you need are the eggs, white vinegar, a pot and a free afternoon. Then you can enjoy your one-of-a-kind creations, perhaps in a clear bowl as a centerpiece, until the Easter bunny makes a visit.
6. Easter Carrot Egg Carton
Brighten up any tabletop with this egg carton full of a half-dozen faux carrots. Texture, color, festive vibes—these little cuties have it all. They'd look adorable on their own or could be paired with a ceramic bunny or other Easter decorations for a fuller display. The price is pretty unbeatable too.
7. Sur La Table Egg Figural Candles, 6-Count
Have you considered cute egg-shaped candles as an Easter egg decorating idea? You should. These petite and pretty candles, which come in a set of six neatly arranged in a corrugated tray, are an affordable way to add a jolt of color and cheer to your home this spring. As candles, they're functional—that is, if you can bear to light them—but be sure to keep them in an appropriate candlestick and stay close by as they're burning.
8. TheFeltPod Wool Felt Easter Eggs, 1-Count
Sweet, soft and special—that's what these felt Easter eggs are. They're made from 100% wool from a fair trade manufacturer in Nepal and are sold individually or in sets of five. Choose from the six patterns available, including polka dots, stripes, various floral designs and bunny eggs. There's no age limit for loving these eggs, but we think they'd be especially charming as a gift to the young ones in your life. Just not ‌too‌ young. Since they're small, the maker emphasizes that these shouldn't be used as toys and that they aren't appropriate for children under the age of four.
9. TheConfettiCorner Silver Foil Leaf Easter Eggs, 12-Count
Add a touch of glamour to your home this spring with this set of gold foil Easter eggs. While many holiday decorations can veer toward the cutesy side, these are purely modern, elegant and grown-up. These plastic eggs, which have blue, green, pink and yellow bases, have been covered in a silver foil material that gives them a metallic finish. Arrange these dozen eggs in a vase, across a mantel or around a floral centerpiece. No matter where or how you display these eggs, they'll be sure to bring a bit of glitz and glam to your decor.
10. sabihup Rustic Jute Twine Eggs, 6-Count
There's no denying how charming these rustic eggs, which have been wrapped in jute twine, are. Choose from sets of six, nine, 12, 15 or 20 eggs and either a single color or a mix of many. These are all handmade by an Etsy artist in a wide range of hues, from spring-like pastels to bright colors and neutrals too. No matter how you display them—piled into a bowl, artfully spilling out of a basket or randomly around the house in an Easter egg hunt style—they'd be a beautiful addition to your home this holiday season.