One of the best things about the Christmas holiday season is making new ornaments to add to your family's Christmas tree. Homemade ornaments are the special touch that differentiates your family's Christmas tree from the generic trees you see in the mall. These ornaments not only look great on your tree, but if done every year, they will chronicle your child's growth and development, and are sure to become a treasured family heirloom. Pass on the ornaments, and the tradition, when your children grow up to have Christmas trees of their own.
Things You'll Need
4 Cups Flour, Extra For Rolling

Clear Polyurethane Spray

Rolling Pin

Butter Knife

1 Cup Salt

1 1/2 Cups Water

Ribbon Or Yarn

Cookie Sheet

Paints And Glitter
Step 1
Preheat your oven to 325 degrees.
Step 2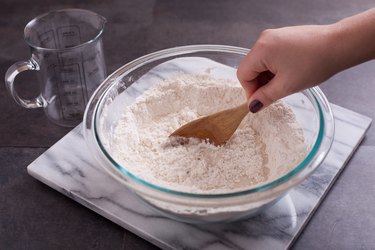 Prepare your inedible dough. Mix 4 cups flour, 1 cup salt and 1 1/2 cups water until well blended. Knead it in the bowl for 10 to 15 minutes until the dough reaches a workable consistency.
Step 3
Roll the dough out to 1/3 of an inch thick on a lightly-floured work surface. Place your child's hand on the dough and use a butter knife or a plastic knife to cut out the shape of your child's hand print. Poke a small hole through the top of the cut out handprint so that you can string it later.
Step 4
Bake the handprints for 20 to 30 minutes in your preheated oven. When done, remove them from the oven and allow them to cool.
Step 5
Decorate your ornaments. Use paints, glitter or sequins to give your ornaments their own personal style. Spray a coat of clear polyurethane on your ornaments to preserve them and keep them looking great year after year.
Step 6
Use ribbon, yarn, twine or hemp to string your ornaments.
Warning
Make sure to supervise your children so that they don't eat the inedible dough. Though the ingredients are nontoxic, the dough tastes horrible and may give your little one an upset stomach.