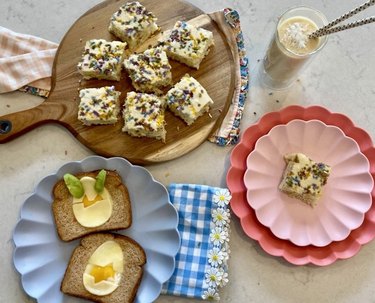 If you ask us, brunch is the best part of Easter Sunday. The whole household is awake, the sugar rush from raiding Easter basket candy has worn off and everyone is ready to dig in around the dining table. If you're looking to up your game this year, our Easter brunch recipes have you covered. Instead of focusing on quiche, waffles, French toast, cinnamon rolls and other traditional brunch menu selections, we dreamed up a few Easter brunch twists that will please kids, kids at heart and even Peter Cottontail himself.
We'll kick things off with a shortcut for a lazy Sunday favorite: sheet pan pancakes. While the pancakes are cooking, get started on beverages. Our tutorial includes a smoothie for all ages, complete with coconut and other seasonal flavors. Finally, we'll introduce an Easter "egg in a hole" toast for a playful touch. Whether you're planning to dig in before or after your annual Easter egg hunt, we'll walk through everything you need to create a memorable Easter Sunday meal. Now, let's hop to these brunch dishes!
Recipe 1: "Bun-fetti" Sheet Pan Pancakes
Things You'll Need
Parchment paper


5 cups pancake batter (store-bought mix or from-scratch recipe)


1/4 cup rainbow sprinkles plus 2 Tbsp. for topping (we used Watkins rainbow decorating sprinkles)


Maple syrup (optional)

How to make "Bun-fetti" Sheet Pan Pancakes: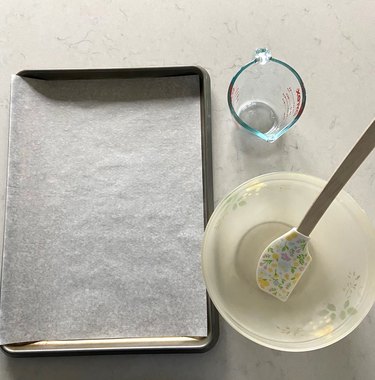 Preheat the oven to 400°F. Line a large baking sheet with parchment paper. We used a 12 x 18-in. sheet.
Follow the directions for your favorite store-bought pancake or waffle mix or your own from-scratch buttermilk pancake recipe.
3. Add sprinkles to batter
Stir 1/4 cup sprinkles into the batter. We used Watkins rainbow decorating sprinkles because they don't contain artificial food dyes, but any sprinkles will do! Pour the batter into a prepared pan. Top with the remaining 2 Tbsp. of sprinkles.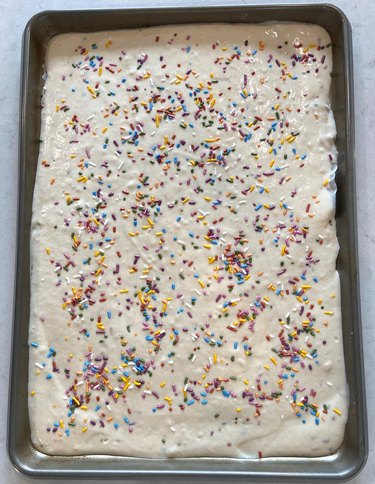 Tip
Our "Bun-fetti" Sheet Pan Pancakes can be whipped up much faster than carrot cake, monkey bread, hot cross buns or any dessert that uses finicky puff pastry. Although we made this recipe with sprinkles, you could replace them with chocolate chips, pecans, fresh fruit or a combo.
4. Bake sheet pan pancakes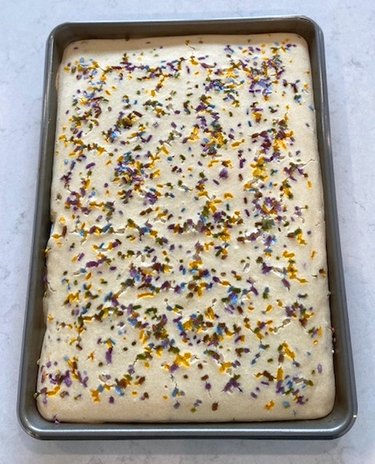 Place the sheet pan in the preheated oven and bake for about 10 minutes or until the pancake mixture starts to brown on the edges and is cooked through.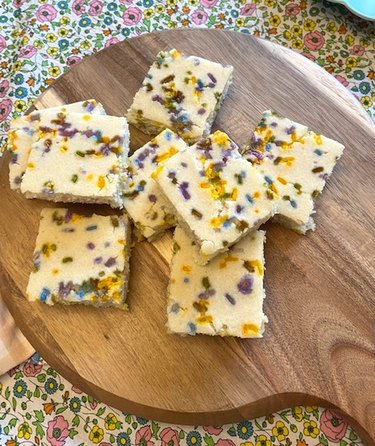 Allow them to cool slightly, cut them into 18 to 24 pieces and serve at Easter brunch. Maple syrup is optional but makes a fantastic topping for added sweetness!
Recipe 2: Mango-Coconut Smoothies
Things You'll Need
2 1/2 cups frozen mango chunks

3-4 cups unsweetened coconut milk

1 cup ice cubes

1/4 cup unsweetened shredded coconut, divided
Tip
For an icier smoothie texture, it's better to use frozen mango than fresh fruit.
How to make Mango-Coconut Smoothies: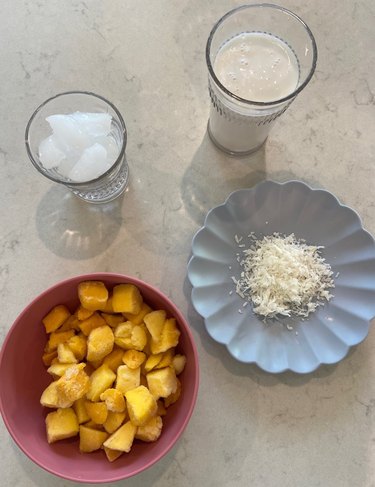 This recipe yields four servings. Add mango, 3 cups coconut milk and ice to a smoothie maker or blender and blend until smooth. Add more coconut milk if needed to reach the desired consistency.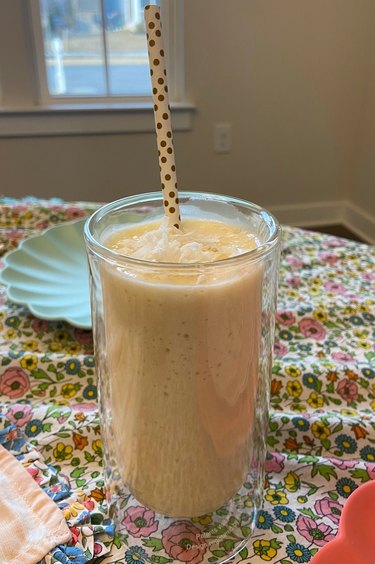 Pour the smoothie into four glasses. Top with shredded coconut or extra mango chunks to round out that sweet yet understated flavor. Don't forget the decorative paper straw!
Tip
We set the table for our Easter brunch with a combination of new and old items. For plates, we went with multicolor bamboo plates from Meri Meri. They're dishwasher-safe and would work well for other holiday brunch occasions, like Mother's Day. We accented the plates with gingham fabric napkins that are also from Meri Meri.
Instead of using a serving platter for the pancakes, we chose to stack them on a round cutting board. For glassware, we went with Crate & Barrel Bodum Double-Walled Glasses because they keep drinks cold. Paper straws add a whimsical touch. If you plan on setting a separate table for children, an Easter basket with books and little toys, like finger puppets, would make a fun centerpiece.
Recipe 3: Easter "Egg in a Hole" Toast
Things You'll Need
4 slices whole-grain sandwich bread

4 slices white cheddar cheese

4 Tbsp. unsalted butter, divided

4 eggs, divided

Avocado (if desired)

Salt and pepper or Italian seasoning

to taste

How to make Easter "Egg in a Hole" Toast: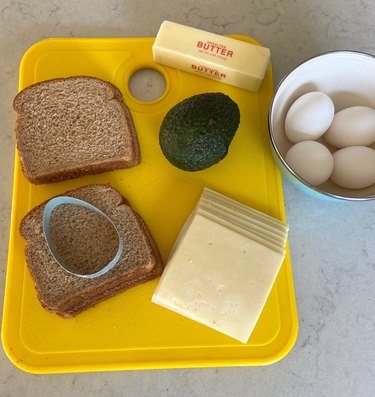 Use a 2- to 3-in. cookie cutter like this one to cut egg shapes out of bread and cheese.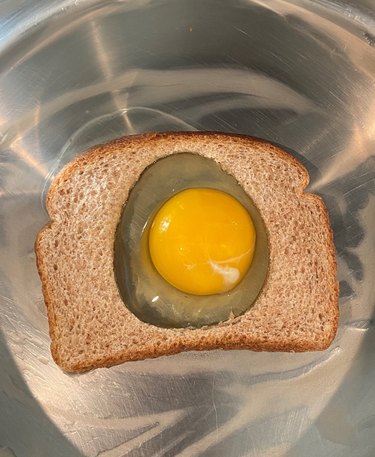 Melt 1 Tbsp. butter in a medium skillet on medium heat. Place one piece of bread into the skillet. Crack an egg into the egg-shaped hole in the bread. Season with salt and pepper and then cook for two minutes or until the egg begins to set.
Carefully flip over and cook for another 30 seconds until crispy. Transfer to a plate and repeat with the remaining bread and eggs.
Easter Side Dish Tips
Round out your Easter brunch spread with side dishes of your choice. Consider roasting veggies (hello, carrots!) and topping them with ricotta or goat cheese. Alternatively, make a springy salad with butter lettuce, radish, shaved carrots and other veggies tossed in buttermilk dressing. A fruit salad with grapefruit and other citrus is another optional add-on to the Easter brunch menu.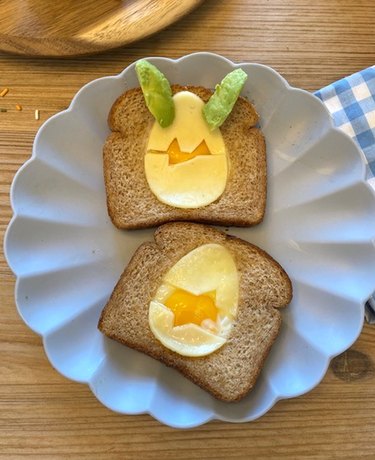 Use kitchen shears to cut cheese in half horizontally. Make zigzags on the bottom of one piece of cheese and the top of the other, as shown. Arrange the cheese to resemble a cracked-open egg. If desired, slice avocado into oval pieces to resemble bunny ears. Serve immediately.
Tip
Use the leftover egg-shaped bread to make Easter ham sandwiches for lunch the next day. Alternatively, fill them with cream cheese and jam for a sweeter twist.
With this creative and colorful brunch array, you'll be the talk of Easter Sunday—in the best way possible! Call us biased, but we can't imagine a more ‌egg-cellent‌ (or delicious!) way to welcome spring.