There are many creative ways to accent the exterior of a home for Christmas, and, oftentimes, the front porch is a focal point on the front of the house. Decorating columns on a front porch can be a visually pleasing way to amplify the entire outside decor of a home. Christmas decorating on the porch is also a cheerful way to welcome visitors to your front door. The finished result is a festive accent to enhance any style of home for the holiday season.
Things You'll Need
Weatherproof red ribbon

Scissors

Tack nails

Hammer

Ladder

Christmas garlands

Small nails

Cup hooks

Strings of Christmas lights

Outdoor electric cord

Grounded outdoor outlet

Greenery wreaths

Floral swag
Drape ribbon around columns
Wrap columns with ribbon. To create a DIY candy cane effect on the Christmas porch columns, take weatherproof red ribbon and wind it around the front porch columns.
Starting at the top of the column, use a small tack nail to secure the ribbon and wrap the column with the ribbon at an angle, leaving areas of the column to show through. When you reach the bottom, cut the end of the ribbon with scissors and secure it with a tack nail.
Hang garlands around columns
Add garlands to the holiday decor design. Take fresh or faux evergreen garland and wind it around the columns.
Beginning at the top, pound a small nail or cup hook on the area facing the house to conceal it visually. Wrap an end piece of garland around the nail or hook to attach it. Wind the garland around the columns, leaving column areas to show. Attach to a nail or cup hook at the bottom for a quintessential Christmas accent.
Use outdoor Christmas light strings to decorate and illuminate columns. Adding either battery-operated or electric light strands to the Christmas porch decor gives the entire porch area a soft nighttime glow.
Attach lights to the columns at the top and bottom using cup hooks. Wrap the columns with the desired amount of lights. Plug electric lights into a grounded outdoor outlet using an outdoor electric cord for a simple and elegant touch.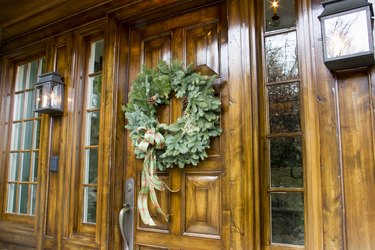 Hang wreaths on the columns, optionally with a matching wreath above the door frame or on the front door. Pound a small nail on the upper or middle front area of the columns and hang large wreaths on them. Choose real or faux wreaths with weatherproof accent bows in hues that coordinate with the Christmas theme of the other exterior decorations.
Tip
Choose white column lights for a more formal appearance and multi-colored lights for a casual look.
Accent outdoor wreaths by adding weatherproof accents, such as pine cones, using floral wire or zip ties.