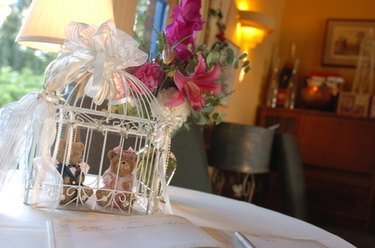 An at-home wedding is ideal for an intimate, personal and close-knit ceremony and reception. One challenge in holding a wedding at home is having adequate space. If the living space is large and open, it will be ideal for a small reception. Decorations will be the element that transforms a familiar living room into a wedding venue.
Linens
Cover all sofas, chairs, recliners and benches with crisp white linens or linens in the colors of the wedding party. This will help transform the room into an elegant setting. This will also protect the furniture from spills and soiling.
Lighting
For an intimate and romantic feel, keep the lighting low and soft. Scattering many candles and tea lights around the room is ideal. Be creative with the candle holders. Use crystal or elegant glass holders for a high-class look, stone and wooden holders for a rustic look or stainless steel for a modern look. For a more unconventional wedding, use bolder lighting such as small spotlights, hanging lanterns or even a shimmering disco ball chandelier. Also consider stringing white Christmas lights around the room.
Floors
Run a white or red piece of fabric down the intended aisle for the wedding procession. This could run down stairs into the living room, in from outdoors or simply from one room or another. Line the runner with lace for a vintage touch. For a romantic feel, scatter rose petals on the floor, concentrating on the area where the vows will be made. For a beach-inspired outdoor ambiance, fill some flat and square trays and baskets with sand, artfully placing seashells and colorful stones in them. Add some candles to the sand arrangements.
Flowers
The flowers can be subtle or bold. Place single stems in many thin vases throughout the room, or place several full arrangements on tabletops, end tables, banisters and fireplace shelves. Wind and wrap vines and flowers--real or silk--around staircase rails. Add a large arrangement where the couple will exchange vows.
Music
You can use a stereo draped with white or lace linen and place a floral arrangement on it. If you have enough space for a live combo, designate a corner of the living room for the musicians, set slightly away from the guests and wedding couple.