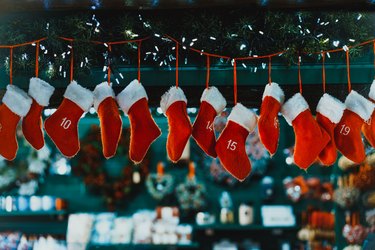 Hanging stockings with fireplace stocking hangers is a tradition in many families, and you often see images of stockings hanging in magazines and online. However, you don't need stocking hangers or a traditional fireplace mantel to hang stockings for the holidays. With some simple materials, like string or adhesive hooks, you can continue the tradition.
How to Hang Stockings on a Fireplace
You don't need to have mantel stocking hangers to adorn your fireplace with stockings. One simple option is to use Command adhesive strips and hooks. Place them on the mantel of your fireplace and hang the stockings. You can use garland or other decorations to hide the hooks.
Another option is to stretch a string or wire across the mantel, securing it at both sides of the mantel. You can put the loops on the stockings through the string so they are secured directly to the string or secure them to the string with an S-hook or clothespins. Leaving the string and clothespins exposed can create a rustic feel, or you can decorate and disguise the string with decorative wire, ribbons, flowers and foliage.
If you don't have a fireplace, you can mimic the appearance of a mantel by hanging stockings from a bookshelf or piano. If you have wall shelves, swap out the decor and use it to hang stockings.
Hanging Stockings Without a Mantel
Walls and windows are great locations if you need to hang stockings without a fireplace. Command hooks are an ideal choice when deciding how to hang stockings on the wall. You can use clear strips or hide them with a garland or other decor. The stockings can stand alone on a section of the wall, or you can incorporate other decorations, like a wreath or family photos over each stocking.
You can also consider other decorations from which to hang your stockings For example, a branch decorated with ribbon or greenery can make a great stocking holder. Secure the stockings with a ribbon or hang them from the smaller twigs. A decorative curtain rod is also an attractive option. Wall hooks, coat racks or a wall drying rack are also excellent options for hanging your Christmas stockings.
Another alternative is to purchase hooks with suction cups and position them on your windows. Hanging your stockings from these hooks not only allows you to enjoy them indoors but also adds an interesting touch to your outdoor holiday decorations.
There are countless options when deciding where to hang stockings without a mantel. Any item with a hook or place to tie a string can be used if it is in a location where you can enjoy the stockings.
You can hang stockings from the stairwell with string or ribbon or hang them from cabinet knobs or a ladder leaned against the wall. You can also use winter-themed items, like skis or a vintage sled, to hang your stockings. These items can be positioned against the wall or hung with hooks. Children can enjoy the delight of a filled stocking first thing on Christmas morning when you hang stockings in their bedroom. You can tie the stocking to the bed frame or hang it from the doorknob.