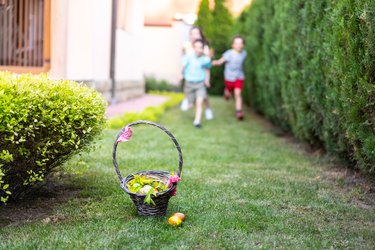 With Easter right around the corner, now is the time to get your ducks in a row. Or is it bunnies? Either way, it's time to buy what's arguably the most essential Easter item: the Easter basket.
The Easter basket is the holder of all the Easter gifts, whether it's Easter toys, chocolate bunnies, Peeps, jelly beans, stickers, plush toys or pastel art supplies—you know, the usual suspects. As you probably know, Easter baskets come in all shapes and sizes, and you can buy them empty or premade with Easter basket stuffers, including that paper grass that makes a giant mess. But hey, all in the name of chocolate, right?
Whether you DIY the Easter basket or the Easter bunny drops it off on Easter morning without much help from you, there are some things to consider before deciding on the right basket.
What to Consider When Shopping for Easter Baskets
‌Size:‌ You can find any size Easter basket that fits your needs, whether it's small, medium, large or extra-large. Small baskets are ideal for small gifts, like Easter candy or Easter eggs, while medium baskets work well if you have a bit more goodies to put inside. Large and extra-large baskets make sense for larger gifts and smaller gifts combined.
‌Material:‌ Easter baskets are made of various materials, the most popular being wicker. Other basket materials include plastic, felt and metal. The great thing about Easter baskets is their reusability, so no matter what material you go with, you have the option of reusing the basket year after year.
‌Type:‌ There are three main types of Easter baskets to consider: empty, premade and kits. Empty baskets come, well, empty. It's up to you to fill them with whatever filler and goodies you want to include. Premade baskets come packed with filler and gifts. In addition to the classic Easter-themed goodies, you can also find baskets with themed gifts like rosé or self-care for adults and arts and crafts or movie night for kids.
‌Recipient:‌ You can stick with an Easter-themed premade basket for anyone on your list, or you can buy something based on the person's interests. If you're buying an empty basket, you can find baskets for adults that double as home decor, which is always a nice bonus.
Scroll on for the best Easter basket ideas, whether you just want to buy an empty basket or one that's premade with Easter goodies. Happy Easter, friends.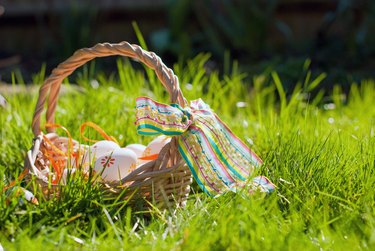 The Best Easter Baskets for Kids:
Crate&kids Felt Easter Basket
If you want your child's Easter basket to be just as soft and sweet as whatever you're putting inside of it, these Crate & Barrel Easter buckets are the perfect options. Made of felt and detailed with the cutest sleepy animals, the baskets are ready to be filled and then used as holders for the Easter egg hunt. Choose from four animal designs: rabbit, fox, duck or bunny Easter basket.
PersonalizationMall Personalized Easter Basket
This cloth-lined wicker basket comes empty, so the filling is up to you. The liner does, however, come printed with any name if you want it to. Each wicker basket is woven by hand making it extra special. You get to choose whether you'd like block or script font as well as the color basket liner you prefer, including pink, blue, purple, gray and green.
Pack this plastic basket full of Easter treats for your kids then they can use it again as a tote to hold their eggs during the Easter egg hunt. It can also be used after Easter as a pool bag, snack holder or whatever your kids want to use it for. Throw some colorful paper filler on the bottom as a base for the goodies. The basket is sturdy, yet lightweight with decorative handles. It comes in three color options: white, pink and blue.
The Best Easter Baskets for Adults:
Hearth & Hand with Magnolia Wire Easter Basket
Not only does this wire basket make a fantastic Easter basket, but it can also beautifully serve as a home decor piece on a coffee table. The basket comes in green or white and it has a wooden handle. It's big enough to hold plenty of gifts, eggs and candy.
LoveIndiLou Handmade Easter Baskets
If you're looking for a unique basket, you've found it. This handmade Easter basket is made in Melbourne, Australia, and uses cotton and recycled T-shirt yarn to make it extra soft. The basket comes in either small or large and you can choose if you want it to have a handle and be personalized with a name. If you select the option for no name, the bunny tag will say "Happy Easter" instead. There are 10 colors to choose from or you can select the custom option and work with the designer to create the color combination you prefer.
The Best DIY Easter Baskets:
World Market Bunny Ears Woven Easter Gift Basket Kit
Wicker basket, but make it Easter. This whimsical, DIY basket kit embodies Easter perfectly. In addition to the adorable basket with a pair of bunny ears on top, the basket comes with a kit to make the basket extra special. Included in the kit are excelsior filling and a clear basket bag to wrap the entire package, along with a gift tag and raffia. Choose from a natural or white basket.
Easter Bunny Basket Wood Craft Kit by Creatology™
If you've got a creative kiddo on your hands, get them this Easter craft kit to work on in the days leading up to the holiday. It comes with a wood bunny basket (assembly required), glitter paper stickers, yarn pompoms, two paint pots, adhesive googly eyes, glitter foam stickers, pipe cleaners, a paintbrush and instructions. The kit is suitable for ages 6 and up, and once completed, the basket measures 5.9 inches long, 8.85 inches wide and 7.25 inches high.
zamiguz Crochet Easter Basket Pattern PDF
Although it's not technically a kit (you'll have to provide your own materials), this downloadable crochet pattern creates a super cute Easter basket that would make a great gift or centerpiece. Once you pay for the pattern, you'll be able to download it and print out the nine pages. You'll get step-by-step pictures and detailed instructions (note: a video tutorial is not included). This pattern is indeed for intermediate-level crocheters and requires three colors of medium-weight yarn, a 4.5 millimeter (US 7) hook, scissors, a yarn needle and a stitch marker.
The Best Premade Easter Baskets:
1800baskets.com Easter Fun Gift Basket
You might be spending a little more on this pre-made basket, but the goodies inside are so yummy and fun that it's totally worth it—especially since you can reuse the unique basket next year. The basket is jam-packed with sweet treats, including milk chocolate moose munch popcorn, mini eggs, a bunny cookie, an egg lollipop and a chocolate bunny. Plus, there's a plush sock bunny inside. It's a fantastic basket for both kids and adults.
HandcraftHuntsville Kid's Art Easter Basket
For the kid who absolutely loves art, this handmade Easter basket comes packed full of super fun Crayola art supplies. Included in the basket are a paint and market pad, coloring books, modeling clay, a paintbrush set, a washable paint set, washable color glue, glue stick, colored pencils, crayons, specialty crayons, pop-out pack and a hand-sewn personalized apron. The included apron and two-handle plastic basket can be personalized with your child's name.
4GoodnessSakeShop Teen Filled Easter Gift Basket
There's a fun surprise around every corner with this handmade Easter basket. The metal basket contains candy, snacks and games, perfect for teens, older kids, and adults who love candy, snacks and games. The gift basket comes filled and wrapped in cellophane and tied with a bow with a personalized tag. As a bonus, 20% of all sales in this shop go to charities focusing on feeding those in need.
ReeCreationsbyShana Assorted Candy Easter Pail
Wish your favorite person a "Hoppy Easter" with this candy-filled metal pail. Inside the pail is an assortment of candy, including Air Heads, Blow Pop, gum, Warheads, Pop Rocks, Fun Dip, Smarties, fruit snacks, Starburst, Fruit Roll-Ups, Snickers, Laffy Taffy, Kit Kat or Hershey's bar, Skittles, M&Ms, Sour Patch Kids, Ring Pop and a candy stick. Choose from a pink, blue, red or white pail. Whether you buy this Easter basket for a child or a grown-up, one thing's for sure—they'll need to do some extra teeth brushing on Easter!