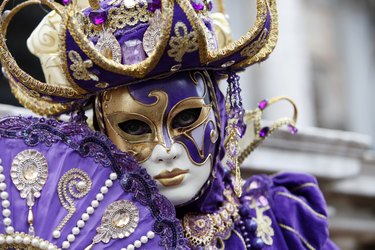 Historically, masquerade balls were grand, gala events hosted by European aristocrats and royalty. The mysterious and fanciful masks concealed the partygoers' identities until the masks were removed with great fanfare at the stroke of midnight. Whether you host a formal event with guests dressed to the teeth or a casual get-together with close friends, modern-day masquerade parties are just as much fun. Send invitations about a month ahead so your guests have time to plan.
A masquerade party theme depends solely on the preference of the host, and the possibilities are nearly endless. Full-on costume masquerade parties are fun for Halloween, but formal attire with fancy masks may be just the thing for a special event such as Christmas, New Year's Eve or Valentine's Day. You can also plan a theme around an era and ask guests to wear Victorian garb, roaring 1920s costumes or gangster-style 1930s outfits. A black-and-white masquerade party is simple and elegant, or you can plan a patriotic masquerade party with guests dressed in red, white and blue.
Decorate to Set the Mysterious Mood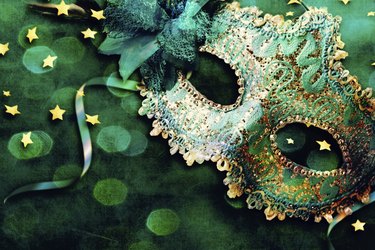 A masquerade party is traditionally a mysterious event, so decorate with subdued colors that set the mood. Black is usually the primary color for decorations, but you can accent the black with secondary colors, such as gold, red, green, purple or silver. Make the party sparkle by sprinkling metallic confetti or glitter over the tables and floor.
Dim lighting, hanging lanterns, strings of Christmas lights and a few safely placed candles add to the air of mystery. If the party is in your home, drape dark blankets or spreads over the television set and any light-colored furniture.
Provide Food Buffet Style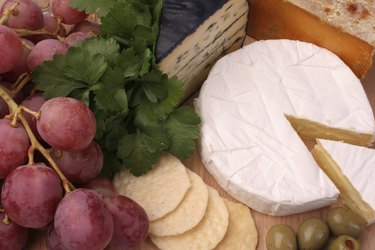 Masquerade party fare depends largely on your budget and the space. A simple buffet table with a variety of cheeses, meats and fruits is appropriate and is relatively inexpensive for a casual party in your home. If your event is dressy or you have invited a large number of people, consider a more formal buffet with gourmet cheese, seafood, a chocolate fountain and champagne.
You can also arrange for a catered meal with servers. Some rented venues, such as banquet centers or hotels, offer package deals that include rent, food and servers.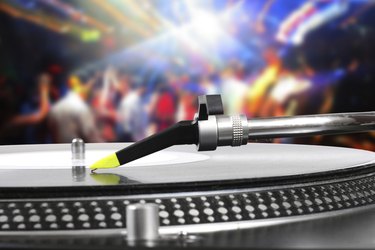 Music and dancing are traditional at masquerade parties. Some of the best ways to provide dance music in a large venue include hiring a band, a string quartet or a DJ. If your party is in your home or a small space, set up a sound system to play the appropriate music, such as classical or baroque for a Victorian party or jazz for a roaring 1920s event. If that is just not quite your style or preference, you can always opt for bringing in karaoke. You can either rent just the machine or go all out and hire a karaoke professional for your shindig.
Games are optional, but you can set up poker tables with proceeds going to charity. You can also host a contest and offer prizes for the best costume or handmade mask.