Things You'll Need
Club soda

White vinegar

Water

Terrycloth

Liquid dishwashing detergent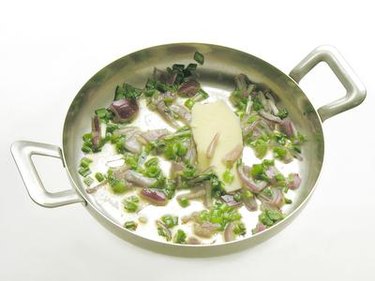 Stainless steel pots are made out of stainless steel, which is used for cookware because it is highly durable. Stainless steel is resistant to rust and corrosion. Stainless steel pots are widely popular because, when used, the pots do not affect the flavor of food; because stainless steel is hygienic; and because stainless cookware lasts long and is very easy to clean. Sometimes you may get stains on your pots, but they are very easy to remove.
Step 1
Apply a small amount of club soda to the stain on the stainless steel pan. The club soda will help break up the stain. It will also help remove any streaks on the pots.
Step 2
If you have water stains from hard water, apply white vinegar to a terrycloth and wipe the stainless steel pan. Make sure not to wipe against the grain of the pot, because that can scratch the stainless steel.
Step 3
If there are baked-on food stains on your stainless steel pans, soak the pans for 10 minutes with warm water and liquid dishwashing detergent.
Step 4
Wash the stainless steel pots with liquid dishwashing detergent as you normally would after the stains are removed.
Tip
Do not use steel wool or highly abrasive cleaning products when cleaning stainless steel.