Julia Child is often quoted as saying that "a party without cake is just a meeting." It's not certain that the quote is legitimate, but it's hard to argue with the sentiment. And, whether your goal is a showstopping party centerpiece or a simple coffee cake eaten straight from the pan with your BFF, you'll need a good quality baking pan to give you the best result. Cake pans are available in all shapes and sizes, but a couple of workhorse options are all you'll really need for most purposes. We'll take a look at six of the very best cake pans, and explain what sets them apart.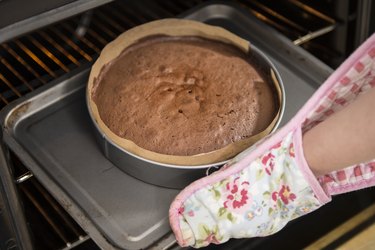 What to Consider When Purchasing a Cake Pan
​Size:​ Because there are so many shapes and sizes of cake pans, we're going to narrow the range for this review to just a couple of the most useful, versatile sizes and shapes (so no Bundt pans, angel food pans or cartoon characters). The most common size for general-purpose baking is 8- or 9-inch rounds and squares, and we've used 8-inch pans for most of our picks. If you prefer a 9-inch pan, or want larger and smaller pans for specific purposes, our picks are mostly available from the same makers in other sizes.
​Material:​ Most cake pans use just two materials, either aluminum or aluminized steel. That's because cakes are very exacting; they need a pan with even heat distribution that heats and cools quickly. That rules out materials such as ceramic, glass or enameled cast iron, all of which retain too much heat. They'd result in dark, tough crusts, which are not at all what you want in a cake. They're excellent for other purposes, just not for this one. Silicone has the opposite problem, in that it transfers heat very poorly. Pro bakers and pastry chefs do use silicone for some specific applications, but they're not a good general-purpose choice for the home baker.
​Depth:​ Most cake pans are just 1 1/2 to 2 inches deep, and that's fine. But some brands make deeper pans with 3- or 4-inch sides, which provide a lot more versatility. They'll give gentle, even browning on the top of your cakes with less doming, and give you the option of baking thicker cakes that yield more layers—you'll have to turn down the temperature and extend your baking time, but the adjustments are easy enough. You can also use them for cheesecakes, in place of the more common springform pan (no leaking!).
Tip
To use a deep cake pan for cheesecake, line the bottom of the pan with a round of parchment paper. Let the finished cheesecake set overnight in your fridge, then put it in warm water for a few minutes the next day. Run a knife around the inside to help the cake release, and it should pop right out when you invert the pan.
​Nonstick, or Not?:​ Sheet pans are often made of plain aluminum, which offers excellent heat transfer. Unfortunately, aluminum reacts with acidic ingredients—buttermilk, fruit, yogurt, lemon juice and so on—which are common in cake baking. Aluminum cake pans, or aluminized steel cake pans, are usually anodized (treated with an electrical current) to make them non-reactive. Anodized aluminum will release your cakes reliably with a minimum of fuss, but pans may have an explicitly nonstick coating instead. Some bakers like the "safety net" of the nonstick pan, which means your cakes will almost certainly release properly and clean up easily. It's worth noting that very light cakes, especially sponge cakes and chiffon cakes, won't turn out properly in a nonstick pan. They need to cling to the sides to support themselves and rise properly.
​Straight Sides Versus Sloped:​ This is a real make-or-break for a lot of bakers. Straight sides mean clean edges and a perfect cake without trimming, but the pans won't nest neatly in your cupboards and will need more room for storage. Cake pans with gently sloped sides will nest for compact storage, but you'll need to trim the sides in order to get a cake with nicely vertical edges. That's not just more work, it means more crumbs to potentially mess up your icing. It's less of an issue with square or rectangular cakes, which are easier to trim neatly and are often even served directly from the pan.
The Best Overall Cake Pan
Fat Daddio's Anodized Aluminum 8 x 3-inch Round Cake Pan
If you want to bake like a professional, use professional bakeware. These aluminum pans from Fat Daddio's are some of the best cake pans you'll find anywhere, despite their relatively modest price point, and professional bakers love them. They're lightweight, they brown evenly, and the extra depth helps minimize doming and over-browning. Because of the extra depth, you can even bake a recipe sized for a 9-inch round without it spilling over. That means extra layers for your layer cake, with fewer pans. The anodized aluminum finish is safe for acidic ingredients, and will never wear off (because it's part of the pan itself). These need to be hand-washed but they clean up easily, and they carry a lifetime warranty. They're available in sizes from 3 to 16 inches in diameter, and from 2 to 4 inches in depth, so—while the 8- by 3-inch size wins on sheer versatility—you can get these pans in any size you happen to need.
Fat Daddio's Celebration Set
The only thing better than getting a top-quality cake pan at a modest price is getting more of them, and that's what you get with this set from Fat Daddio's. They're made of the same heavy gauge aluminum as our top pick, but this set of three—3-inch, 5-inch and 7-inch—are the standard 2-inch depth rather than the 3-inch depth of our top choice. Although they're bakery-quality pans, this set is marketed squarely to home bakers because they're sized to give you a perfectly staggered 3-tier cake using a single box of cake mix (or a scratch recipe of the same size). The largest of this set, the 7-inch pan, is also the perfect size to fit into a 6-quart Instant Pot or another pressure cooker if you don't want to fire up your oven during the heat of summer. Any day you can buy professional quality bakeware at a budget pan price is a good day!
USA Pan American Bakeware Classics 8-inch Square Cake and Brownie Pan
Professional-style pans are all well and good, but sometimes features aimed at home bakers are very handy to have as well. An excellent example is this square 8-inch cake pan from USA Pan, which adds a few convenient features. First and foremost is the nonstick coating, which is silicone-based and therefore BPA- and PFOA-free. Your baked goods will release from the pan easily, and the pan itself will clean up in seconds with a quick hand wash. The unique corrugated bottom of this pan is intended to improve baking performance and make it even more nonstick, but as a secondary benefit, it gives the pan more rigidity and helps prevent warping. The handles make it easy to maneuver in and out of the oven, and the gently sloped sides mean you can stack them for storage if you buy more than one. The material is aluminized steel for years of durability, and the manufacturer backs this baking pan with a limited lifetime warranty.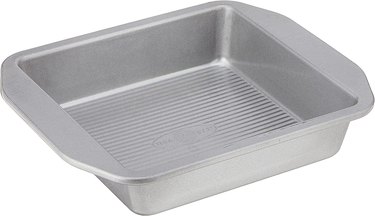 The Best 9 x 13-inch Cake Pan
Nordic Ware Classic Metal 9 x 13-inch Covered Cake Pan
Heavy-duty aluminum is always the best choice for evenly baked cakes, and that's especially important in a larger 9- by 13-inch pan. That's why we like the solid construction of this pan from Nordic Ware, one of the most reliable brands in aluminum bakeware. The pan has gently sloped sides, so they'll nest for storage if you buy more than one, and rounded corners to help your baked goods release cleanly. The pan's sides are tall, at 3.25 inches, so you can bake deeper cakes and casseroles than you might in many rival pans. The gently domed metal lid snaps tightly to the pan when you take food to a potluck, and is more durable than the plastic lids provided with other pans. It can even double as a serving tray, if necessary. The rolled edge of the tray contains a steel rim to help prevent warping and improve durability. The downsides? Aluminum is soft and metal utensils will scratch it, and it's not dishwasher-safe (dishwasher detergent will darken and tarnish the pan). Other than that, it's one of the best baking pans you can buy.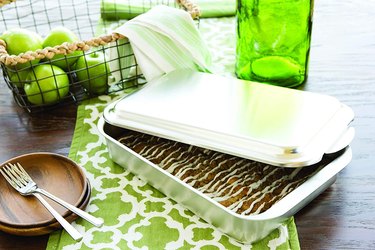 The Best Nonstick Cake Pan
Chicago Metallic Professional Non-Stick Round Cake Pan, 8-inch
If you love the idea of professional quality construction but aren't willing to give up your nonstick pans, this offering from Chicago Metallic may be just what you're looking for. It's constructed of heavy-duty aluminized steel, to conduct heat beautifully and maximize durability, with a silicone-based nonstick surface. It's oven safe to 450 degrees Fahrenheit (so you can't broil in it, but for most baking or savory uses you'll be fine). These pans have a couple of advantages over our commercial-style top pick. One is that they're ideal for gooey creations like sticky cinnamon buns or anything caramel, which won't stick and will clean up easily. Another is that they're dishwasher-safe, something you'll appreciate in the midst of your annual holiday baking frenzy. The only thing to be aware of is that the darker nonstick pan will bake your goodies faster than a light-colored aluminum pan, so you may need to adjust your baking times.
The Best Springform Cake Pan
Nordic Ware 9-inch Springform Pan
Some scenarios just don't lend themselves to a conventional baking pan. For cheesecakes, quiches or building cakes into multi-layer desserts with mousse or other fillings, it's often handier to use a springform pan. Sadly, not all springform pans perform well. Those with weak latches or poor seals between the sides and the lid will let your cake batter leak out, or—in the case of a cheesecake—let your water bath in, with disastrous results. That's why you need a high-quality springform pan, like this one from Nordic Ware. The manufacturer calls it leakproof, and they're not kidding: The unusually strong latch and the tight-fitting ring will keep batter in and water out, until you deliberately open it. The pan is made of solid carbon steel, with a nonstick coating for easy release and quick cleanup. The tall sides give it a 10-cup capacity, suitable for almost any recipe that requires a springform pan.