Skilled cake decorators and pastry chefs are often capable of creating remarkable designs freehand, just by eye. Does that mean they actually do it? The truthful answer is "not always," because time is money. Even for artisans at that level, it's faster and more reliable to use cake stencils (or cookie stencils, as the case may be), to turn out perfectly executed, consistent results every time. That in turn means that a reasonably patient home baker with a stencil set can also create professional-looking, Instagram-worthy results with a minimum of fuss. So set aside your conventional cake decorating tools; here's what you need to know about choosing and using stencils. We've picked out eight of the best options to get you started.
‌Shape and Size:‌ Most stencils fall into a few key sizes and shapes. Cookie stencils are typically round, from 2 1/2 to 3 inches in diameter, and often have a tab to make them easier to lift from your baked goods. Cake stencils are made to fit either 4- or 6-inch wide cake layers, and vary in length. A third common size is square stencils of 5 to 6 inches, which can be used on larger cookies or individual plated desserts, or repeated to make patterns on a cake.
‌Reusability:‌ Rigid stencils are always reusable and need just a quick hand-washing after you finish using them. Flexible stencils are a mixed bag. Some are made of relatively durable materials, and can be washed and reused multiple times; others aren't as sturdy and will only hold up for one or two uses. That's fine if you'd planned on a single-use scenario (how many 50th anniversaries will you bake for?), but not so good if you'd hoped to keep and use them for years.
‌Pattern:‌ Stencils can be themed around special occasions, from birthdays, graduations and baby showers to the big ones like Valentine's Day, Halloween, Christmas and the New Year. Those are useful, though limited. Others can be highly stylized (ornate filigree, perhaps, or angular Art Deco), or more universal motifs from leaves and vines to stars or geometric shapes. A combination of themed and multi-purpose stencils will give you everything you need to delight your friends and family year-round.
Some Helpful Baking Stencil Tips
For novices, the easiest way to use a stencil is to sift a powdered decoration—cocoa, confectioner's sugar, even ground nuts or colorful candy sprinkles—over the stencil to leave a pattern behind. You can also brush on luster dust, or use food colorings and decorating gel to make colorful patterns. The ultimate in this type of decorating is an airbrush, though that's more of a professional's tool.
If you're using a stencil with buttercream, make sure the icing is well chilled before you apply it. The stencil will pull away nicely from cold buttercream, but as it warms and softens, it's more likely to cling and distort your design.
If you're uncertain about how often you'll use your stencils, don't worry: They're inexpensive, and have tons of uses aside from baking. As mentioned above, you can use them for painted borders in your home, or to refresh and upcycle your cabinetry or thrift store furniture finds. Use them to ink happy birthday greetings onto your handmade cards, or decorative prints to hang on your walls, or even to decorate pages in your scrapbook. There's no limit to their uses aside from your imagination, so you can invest in a set (or two!) without worrying about the money doing to waste.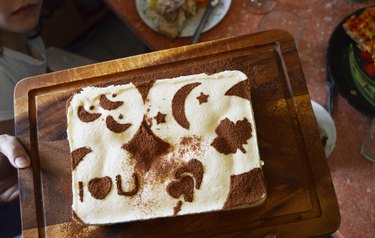 1. Raynag Cake Decorating Stencils, 3-Piece Set
If you're looking to get started with baking stencils, this set is a good starting point. Each rectangular stencil is just under 6 inches in width (so it's a perfect fit for a 6-inch tall cake) and just over 15 inches long, so you won't need to reposition the stencil often even for large cakes. The three patterns are versatile—one geometric, the other two in organic patterns that suggest plant growth—and can be used for any occasion, from birthday cakes to wedding cakes.
Use them with royal icing or a well-chilled buttercream to create an embossed pattern, or brush them with cocoa, powdered sugar or luster dust for a delicate pattern. You can also use just a portion of the pattern for smaller goods, such as cookies or cupcakes. The stencils are washable and reusable, and take up minimal space between uses.
2. Princess Lace Cake Stencils Kit, 4-Piece Set
This four-piece set of laser-cut designer stencils by BAKEaCAKESupplies on Etsy is perfect for more formal, traditional designs, like the kind you'd use to embellish the fondant on a cake meant for a wedding or a landmark anniversary. They're cut from food grade plastic, with just enough flex to bend neatly around the sides of a cake. You'll get two stencils for 4-inch high layers and two for 6-inch layers, each of which has a slightly different (but entirely compatible) pattern of lacy florals. They'll look elegant on the sides of any layer cake, but you could use them to decorate the corners and borders of a sheet cake as well, and elevate a simple slab into something much more sophisticated.
If you're just dipping your toes into the hobby, and want a cost-effective way to get started, it's hard to go wrong with this cookie stencil set from Konsait. With 50 individual stencils in a range of designs, from florals and wrapped gifts to oddities like a pineapple and a cactus, there's something for every occasion.
The stencils are relatively small, at 2.6 inches in diameter (not counting the tab, which makes them easy to lift from your baked goods) which makes them perfect for use as cookie or cupcake stencils (or latte art, for that matter). They're also useful for cakes, though; you can either use the stencil to mark individual slices, or repeat your chosen stencil to create a running pattern. Use them with sprinkles or powders, brushed-on colorings or luster dust, or with icing. They'll wash up easily for the next use.
The first few picks in our list covered cake stencils sized for 4- and 6-inch layers, and cookie stencils in 2.5- to 3-inch rounds. These stencils from DIyLifestyle Stencils, on the other hand, fit the third common category, the 5- to 6-inch square. They'll work for cupcakes and larger cookies (like celebratory sugar cookies), or you can apply them to the sides of layer cakes, or use them on the display surface of a sheet cake. They're made of food-grade PET plastic, so they're perfectly safe to use with your baked goods, but they're also a general-purpose craft stencil that could be used for other purposes like painting a border on a wall. Needless to say, if you've used one for a painting project, you won't want to use that same one again for food.
Some stencils make a specific design—a heart or floral pattern for Valentine's Day, a pumpkin for a Halloween cookie, a sleigh for a Christmas cookie—but others are less focused. These ones, for example, create recurring textures for your cookies and cakes.
Why is that useful? Well, for home bakers, your cookies and cupcakes won't necessarily be uniform in size, and your cakes won't necessarily be as perfectly round (or square) as a professional's. Stencils with specific patterns will make those variations more obvious, while textured patterns will tend to camouflage them. That's not their only purpose (a textured layer between two more decorative layers will increase their impact), but they're definitely a useful thing to have in your arsenal.
You can find custom sets of stencils for just about any occasion imaginable, but if you're only a casual baker, there's probably a limit to how many of those you'll want to buy. A better option is to pick out a set like this one, which provides stencils for all of the special occasions that come around in the course of a year. Want a heart stencil for a Valentine's cookie? Got it. An Easter egg pattern? No problem. A kissing couple for a wedding or bridal shower? Covered. It's not up there with fundamental baking tools like cake pans or sheet pans, but a set like this is still awfully handy.
What if you're more the DIY type? Well, you can improvise simple stenciled patterns by arranging cookie cutters on top of a cake and powdering over them, or laying a paper doily over top of a cake and sifting cocoa or icing sugar over it. You can even create abstract designs by laying strips and shapes of parchment—or even a meandering length of kitchen twine—on your cake or cookie and then removing them after a quick dusting. Those approaches are time-consuming, though, and hard to replicate.
A better option is to purchase professionally-designed stencil templates. You can sometimes find them in paper form but more often they're sold as digital downloads, like these. It takes a bit of patience to cut out a stencil by hand from mylar or some other form of food-safe plastic (the lid of an ice cream bucket will work) but once you're done, you can use it for years. And if it tears or wears out, well...you've still got the files, and can make another.
Cutting stencils by hand gets old in a hurry, so if you like the idea of making your own, you might want to pop for an automated solution, like the Explore 3 from best selling craft-machines maker Cricut. Realistically, it's a pretty over-the-top solution for baking stencils, but if you've wanted one anyway and you're looking for another use-case, cake stencils certainly fit the bill.
All you'll need to do is download digital templates like the ones above, import them into your Cricut app, and load the machine with food-grade stencil sheets. The machine does the work for you, and it's a lot faster than using an Xacto knife. In fact, if you wanted to begin designing your own stencils, you could even set up an Etsy store of your own and sell finished stencils as a side hustle. It may not help you retire early, but it's one way to offset your investment in the machine.